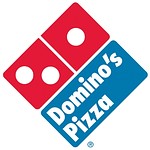 Company Logo ®
Location
Phone
(585)
2095 East Henrietta Road, Henrietta NY, 14623
359 3330
1595 Mt. Hope Avenue, Rochester NY, 14620
244 2100
1460 Lyell Avenue, Rochester NY, 14606
736 3507
1092 Long Pond Road, Rochester NY, 14626
227 1500
1673 East Main Street, Rochester NY, 14609
484 8886
1699 Culver Road, Rochester NY, 14609
654 9900
785 Fairport Road, East Rochester NY, 14445
673 7377
1075 Ridge Road, Webster NY, 14580
216 3005
Domino's Pizza is a chain pizzeria. Great for a late-night college meal.
Comments:
Note: You must be logged in to add comments
---
2008-05-29 20:46:25 The Mt. Hope Ave. location is wonderful. It is obvious that they are conscientious of customer service— I have never heard more kind, respectful, and honest people as those that work at this location. A bit slow on delivery, but the other qualities make up for it. The pizza itself is fairly common, but not bad for chain pizza. Very satisfied! :) —jramey
---
2008-08-26 20:46:29 I've come to the realization that Domino's is better than Papa John's. We use the East Henrietta location —PeteB
---
2008-08-27 01:16:21 If I need a pizza quick, I will call Dominos. —EugeneCain
---
2009-04-03 10:23:36 My roommates and I used to order from the East Henrietta Road location all the time while we were studying at RIT. One time we called just as they were closing, and they still made our pizzas and delivered them, even though it meant them having to stay late.
My favorite pizza in Rochester is the doughy variety served at places like Amy Rose Pizza, Mark's Pizzeria, and Pontillo's, but Domino's is my pick for chain pizza over Papa John's, Little Caesars, and Pizza Hut. —AlexanderGartley

---
2010-10-26 12:28:37 IM AM SUPER UPSET WITH DOMINOS ON MEIGS/MONROE AVES...I LIVE ON THE CORNER OF EAST AVE/SCIO ST WHERE SCIO STREET TURNS INTO BROADWAY...I WAS TURNED DOWN FOR DELIVERY WHEN I CALLED IT IN...I DO NOT UNDERSTAND NOR AGREE WITH THE REASON WHY...I DO UNDERSTAND THAT NOT EVEN A MILE UP SCIO ST IT IS A VERY HOSTILE ENVIRONMENT ALSO KNOWN AS A GHETTO...BUT AFTER EXPLAINING TO THE SO CALLED SUPERVISOR WHERE EXACTLY I LIVED HE STILL TURNED ME DOWN FOR BUSINESS...I HAVE COME TO LOVE THE NEW PIZZAS THAT DOMINOS HAS TO OFFER AND AM SAD THAT I CAN NO LONGER HAVE DELIVERY SERVICE AND I LIVE LESS THAN 2 MILES FROM THE LOCATION...IT INTERESTING THAT I WAS DENIED A CALL IN DELIVERY WHEN JUST 2 WEEKS PRIOR I DID THE ONLINE ORDER PROCESS AND THEY DELIVERED THE PIZZAS...MAKES NO SENSE AND I WILL NEVER GO TO THAT LOCATION EVER AGAIN...I'LL JUST SUCK IT UP AND GO TO ANOTHER LOCATION...THIS HAS NOTHING TO DO WITH DOMINOS AS A WHOLE BUT POOR BUSINESS PRACTICES OF A PARTICULAR LOCATION... —RASHEEDAHMUHAMMAD
---
2010-11-05 22:31:57 I ordered a pizza from the closest Dominos to Webster which is the Culver rd one. If you pickup they keep the door locked so you have to get buzzed in... that's not something that I like to see. Anyways the pizza were okay, I've never had the new recipe but if the Culver one makes it as good the one in Henrietta then I don't think I like it. It's way more oily than the previous incarnation. —DamianKumor
---
2012-06-28 10:16:50 I cannot fathom why anyone eats chain crap pizza when there is a local pizzeria every .5 mile in Rochester. Domino's taste like frozen grocery store pizza. —PDub