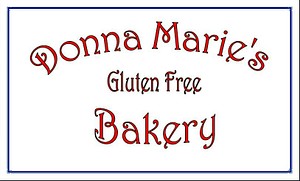 Location
164 Newbury Street, Rochester, NY 14613
Hours (as of July 2014)
Call-In Orders only on Monday: 8:30AM to 5:00PM
Tuesday/Wednesday/Friday: 10:30AM to 5:00PM
Thursday: 10:30AM to 6:00PM
Phone/Fax
585 254 0706 / 585 254 3657
Wheelchair Accessible
Info Needed
Alcohol
No
Email
<info AT donnamariesbakery DOT com>
Website
http://www.DonnaMariesBakery.com
Menu
It's gluten free, not taste free.
Donna Marie's Gluten Free Bakery is a dedicated gluten-free and peanut-free bakery(many items dairy free too). Founded in 2009. They pride themselves on using all natural, gluten free ingredients to produce a product that has a traditional taste and texture.
Products include breads, rolls, quickbreads (banana and pumpkin nut) cookies, cakes (traditional varieties as well as carrot), cupcakes, muffins, pizza shells, cinnamon rolls, lava cakes, cake truffles, croutons, and bread crumbs, as well as specialty cakes for weddings and birthdays. In addition to their location on Newbury Street, Donna Marie baked goods can also be purchased at Lori's Natural Foods, select Wegmans, Green Hut, Starry Nites Cafe, Harry G's, Biaggi's, GioVanna's, and others.
Comments:
Note: You must be logged in to add comments
---
2010-08-25 14:16:25 I just tried the new honey grain bread and it's great!!! Best bread I have ever had that gf. The Cinnamon Raisin is really good too. And the price is right ($4.98). This bakery has everything I love and it does it right. I haven't been dissapointed yet —MartaSweeting
---
2010-12-03 09:05:20 Got a couple bags of GF dinner rolls for Thanksgiving and they were fantastic! White bread, too! Definitely worth a visit - though the hours are really tough, especially with no weekend hours. I live in Greece (only a couple miles away from the store) but work in Canandaigua, so it's really tough to get there, but if you can, it's totally worth it. —DavidGottfried