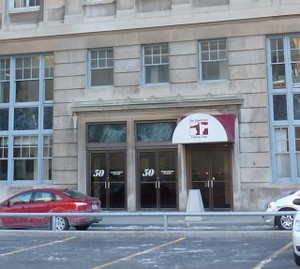 Entrance on Lawn Street
Former Location
50 Chestnut St, Rochester, NY 14604
Status
Closed (as of March 2015)
They were sold in March 2015, named changed to Empire Fitness, and closed abruptly on July 21, 2015.
Comments:
Note: You must be logged in to add comments
---
2009-07-24 16:46:20 I love this place. Everyone is so nice and friendly. The owner, John H, is the most likeable and personable person I know. He goes out of his way to send daily emails to the members to get them excitred about their workouts as well as promotions the DFC is currently promoting. There is no doubt in my mind that he knows every member by name. He gets you enthusiastic about getting into shape and working out. Def become a member. —limeylimer
---
2010-11-23 23:41:15 Experienced Harro East & Midtown Athletic, DFC is without a doubt my favorite place to work out. At $40/mo you can't go wrong for a place with racquetball & swimming facilities. I love the new (2009) True treadmills that are on the cardio floor, and definitely think John H, the owner, is a great personality to have around - remembers names and says hello & encouraging remarks to everyone he runs into.
THE MUSIC IS GOD AWFUL, HOWEVER. BRING YOUR IPOD. YOU HAVE BEEN WARNED. —DerekSung

---
2015-07-22 09:31:50 Sold in March, name changed to Empire Fitness; closed abruptly yesterday.
http://www.democratandchronicle.com/story/money/business/2015/07/21/empire-fitness-abruptly-closes/30496029/ —markjackson

---
2015-07-22 14:16:37
Discussion. —EileenF