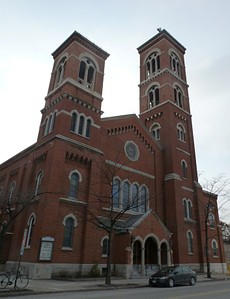 Downtown United Presbyterian Church (DUPC, pronounced "dup-see") is a church in the Four Corners neighborhood that is part of the Presbytery of Genesee Valley. They were formed in 1974 out of three historic churches: First, Brick, and Central Presbyterian. The present building was originally Brick Presbyterian and was built in 1904, while the Central Presbyterian building is now the Hochstein School. The original First Church is now home to the
Central Church of Christ.
Downtown Presbyterian prides itself on its long history of social justice work, dating back to abolitionism and continuing today with their
current ministries, refugee aid, RAIHN participation, hospitality to the LGBT community as a "More Light" congregation. The church building also houses numerous community organizations, including:
Spiritus Christ Church, an independent church in the Catholic tradition, also holds Mass here on Saturdays at 5:00PM and Sunday at 7:30AM.
Comments:
Note: You must be logged in to add comments