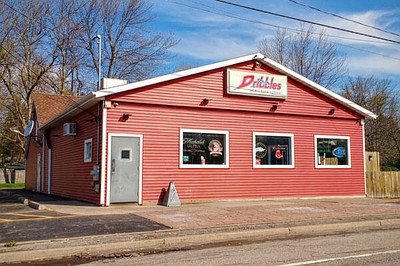 Dribble's Sports Bar view from the street
Location
1761 Scottsville Rd, Rochester, NY 14623
Hours (as of March 2016)
Monday: 12:00PM to 2:00AM
Tuesday - Thursday, Saturday: 11:00AM to 2:00AM
Friday: 10:30AM to 12:00AM
Sunday: 12:00PM to 12:00AM
Phone
585 360 2458
Wheelchair Accessible
Yes
Alcohol
Yes
Websites
http://dribblessportsbar.com
Facebook
Dribble's Sports Bar is a bar on Scottsville Road near RIT with a sports orientation. Located in the same building as Sylvio's Pizzeria and Catering.
Formerly Lex South Sports Bar & Grill.
Notes and References

" Take out available. Big Screen T.V. viewing. Outdoor patio and nightly specials." 1


Wings Writeup on RoadFood.com].
Comments:
Note: You must be logged in to add comments
---
2012-02-19 13:15:31 This was a popular hangout in the mid-2000's for the Deaf community of RIT/NTID. —Bammerburn