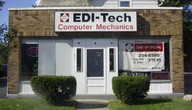 our old EDI-Tech storefront
Location
Rochester NY
Hours
by appointment
Phone 24 hours
Phone
585 254 8580
800 368 4004
Website
http://www.EDI-Tech.com
Please call if you are looking for service or support on products you purchased here.

—JackGreenky - as I worked here before the storefront closed.


Services for all types of computer equipment and networks.


Parts and service for older computers as well as the latest.


Custom computers and networks, wired and wireless, designed and built.


Spyware and Virus Cleaning and Removal, Data Recovery


PC - Mac - etc., hard drive, floppy, Zip Drive, etc.


Also custom web pages and software - by appointment, please call.
Comments:
Note: You must be logged in to add comments