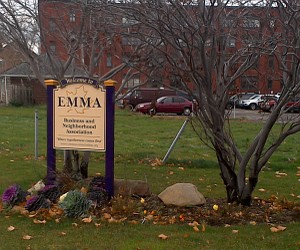 Sign near the Hungerford Building.
The East Main, Mustard & Atlantic Avenue neighborhood (EMMA) is a located directly south of Beechwood and centered on East Main Street, Mustard Street, and Atlantic Avenue. Like the adjacent NOTA and Culver University East neighborhoods, EMMA is mostly an old industrial area, but it does have some areas of a mix of homes and businesses. It is divided from NOTA by active train tracks and the Goodman Street Yard. Today, the revitalized Hungerford Building bridges EMMA and NOTA with its numerous art studios, small shops, and hopping First Friday scene, while several bars and restaurants on Culver Road help welcome people to North Winton Village next door.
Mustard Street itself is a short dead-end street whose name derives from the former presence of the French's Mustard factory, which closed in 1983.
At the moment, however, East Main and the residential streets east of Mustard can be somewhat rundown and marred by vacant lots. Still, the neighborhood is an active site of revitalization, especially the
East Main Arts & Market Initiative, which draws extensively from resident and business input at several public meetings. EMMA has become the home to a number of street art installations in the last couple of years, driven by WallTherapy.
The EMMA Neighborhood Association was formed in 2013.
Establishments
Links
Comments:
Note: You must be logged in to add comments