The East Avenue Inn & Suites
The East Avenue Inn & Suites was a moderately-priced boutique hotel in the East End neighborhood, located at the edge of downtown, on the corner of East and Alexander. The Inn had 58 guest rooms, including twenty-four suites with kitchenettes, and two state-of-the-art meeting spaces. The East Avenue Inn & Suites specialized in corporate travel and weddings, but also regularly catered to the East End and Park Avenue dining, nightlife, and theater scenes. It was within walking distance of the Rochester International Jazz Fest, the George Eastman House, the Memorial Art Gallery, the Strong National Museum of Play, and the Rochester Museum & Science Center.

Included in the rental of any room or suite was free wi-fi, free parking, and continental breakfast. Other amenities included a fitness center, a business center, iPod docking stations, DirecTV with premium movie channels, and custom-designed fireplaces throughout the hotel. All rooms were non-smoking. East Avenue Inn prided itself on sustainable practices that created less waste and consumes less natural resources.

The hotel was built in 1957. After a long hiatus it reopened on May 1, 2012 under new management. A full renovation of the property was completed in Spring 2014 and included the opening of a new onsite restaurant called City Grill Rochester. The new style was inspired by the artistic and musical side of Rochester and features the artwork of local artist Henry Avigon.

Closed on May, 24 2019 to be torn down and replaced with a Courtyard hotel. After closing and before construction stared a lawsuit was initiated by the neighborhood against the city because neighbors think the new hotel will not fit in the surrounding area. City Grill Rochester remains open.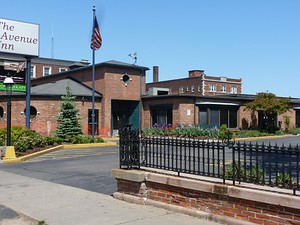 The inn as it appeared in May 2012.
Comments:
Note: You must be logged in to add comments