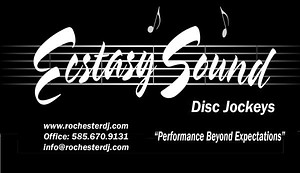 Mailing Address
93 West Main Street, Webster, NY 14580
Phone
585 872-WEDJ (9335)
Email
<info AT rochesterdj DOT com>
Website
http://www.rochesterdj.com
Ecstasy Sound DJs is a mobile disc jockey entertainment company based in Webster. The business started in October 1998 and since then has evolved into one of the most respected, professional mobile dj companies in Western NY. A majority of Ecstasy Sound's business comes from performing at wedding, corporate events and private parties. Their staff does perform at school and teen events, however. But under the name "ROC City DJs."
Ecstasy Sound DJs has a sister company, ROC City DJs. The "ROC City DJ" brand was created in 2007. Because more of Ecstasy Sound's events included marketing to teens, the name "Ecstasy" was feared to have a negative connotation instead of the actual dictionary meaning (intense state of joy or delight).
In 2009, "ROC City Photobooths" was added to the company's list of services. This is where clients rent a photo booth to any event to incorporate hours of fun and enjoyment to their special event. Videography services is another part of their list of professional entertainment services.
Comments:
Note: You must be logged in to add comments