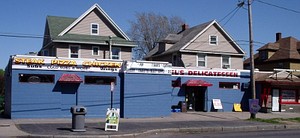 El's Deli - April 2010
Locations
Phone
Deli: 1548 Dewey Ave, Rochester, NY 14615
585 254 4910
Pizza: 1540 Dewey Ave, Rochester, NY 14615
585 254 2010
Hours (as of April 2010)
Monday - Sunday: Early AM to approx 10PM
more Info Needed
Accessible
Yes
Alcohol
Sells Beer in Deli-Grocery
Reviews
2010-09-20 Rochester NY Pizza Blog review
El's Delicatessen or El's Deli, formerly Al's Deli at 1548 Dewey Avenue combined with 1540 Dewey, formerly being the SS Coliseum Pizza location, has a convenience store with misc. products and groceries, a deli and cold sub shop (to go) and hot subs, pizza, wings, etc. from the pizza side, with delivery available, all in the same building, the same store.
There is no separate access, ordering, or even access for the public, to the pizza making side of the building.
It is in the Maplewood section of Rochester, just north of Ridgeway Avenue.
References:

Al's Deli on Urbanspoon.com - info but no reviews noted
Comments:
Note: You must be logged in to add comments