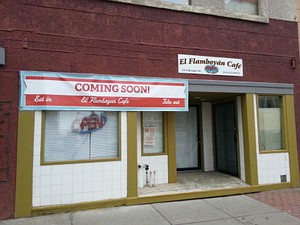 El Flamboyan
Former Location
35 Chestnut Street, Rochester NY, 14604
Status (as of November 2015)
Closed
El Flamboyan Cafe was a Puerto Rican restaurant in the East End. The menu included various kinds of fritters, Cuban sandwiches, flambo fries and flambo burgers, and mofongo.
Opened May 8, 2015. The owners are Samuel and Xavier Borges. According to their
Facebook page they closed on November 14, 2015 and are looking for a new location.
Comments:
Note: You must be logged in to add comments