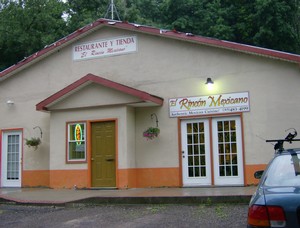 History
Maria Pena opened El Rincon in 1991 to serve migrant workers in the area. She still runs it today with the help of her sons.
Comments:
Note: You must be logged in to add comments
---
2006-08-24 13:44:23 Started by Guadalajara native Maria Guevara in 1991 primarily to serve the migrant worker population it has grown increasingly in popularity ever since. I first discover El Rincon back in 2000 through my brother and his wife. She grew up in San Diego and raved about the authenticity of the food at El Rincon. I've been there dozen's of times since and have been amazed on every single visit. The food is consistently fresh and extremely tasty. The prices are on the expensive side and it is a 15-20 minute trip from downtown Rochester, but if you really want to find authentic Mexican food in upstate NY, there's no better choice. Highly recommended! —ZedOmega
---
2006-11-05 19:48:45 Worth the drive! So far the best Mexican food I have had in the Rochester area. Try the mushroom quesadillas, they are different and tasty. The Tomallis and Enchaladas are good, especially with the green chile sauce. —ScottHendler
---
2007-02-22 23:36:00 This place is sooo good! My husband was born and raised in CA and this is the most authentic Mexican food he has found since we moved to NY. He drives all the way out to Sodus for take out and we live in Corn Hill. Their chile rellenos are the best! —AudreyJames
---
2007-05-27 19:47:16 El Rincon Mexicano es el mejor restaurante que he visto para comer la comida mexicana. Trai mi novia guapa, y nos divertimos. Comi enchiladas con un queso brillante y pollo, y ella comio una sopa verde con maiz y carne. Bebimos mucho agua porque las platas fueron calientes, y para terminar la cena, compartimos el pastel de "Tres Leches." Vamos a regresar, sin duda. Buen provecho! —JustinSukiennik

---
2007-08-21 20:22:23 The Canandaigua location has changed hands but it's still in the same family. As of our last visit they were still waiting for their new liquor license. Menu is basically the same with some minor changes. We have been there twice since the change and food quality was still excellent. Prior to the change, I brought a friend who is a Mexican native and he had high praise for the food. —DottieHoffmann
---
2007-10-01 15:25:16 First time here Saturday night-wow! I don't generally like Mexican but a friend thought it'd change my mind. It definitely did! I had a chicken stuffed burrito that was amazing —PeteB
---
2007-12-31 17:48:16 Love this place. Every time i pass through Canandaigua, I try to eat there or grab some to take home. Yummy! —AmyRiposo
---
2008-02-01 08:43:10 This place has a lot of charm and a lot of Mexican clientele, but, sadly, its food is terrible. The pozole is good; otherwise, everything is drowning in grease. And $3 for a single greasy taco? Por favor. —OwenThompson
---
2008-02-01 18:39:11 The Sodus location is always worth a drive. Love the chipotle chicken, mole, pozole and mushroom quesadillas. It used to be open in the summer only but went year-round a few years ago. I hope they can keep it open in the winter with gas at >$3. —ThomasPawlik
---
2008-02-08 04:53:11 Shortly after El Rincón opened, i heard plenty of raves, especially from friends who had traveled to and lived in Mexico. Growing up, from elementary school through junior high, my best friends and neighbors from Mexico regularly invited me to dinner, where i acquired the taste for homestyle Mexican food. Quite similar to homestyle Chinese food, it selects fresh ingredients from the wide abundance of nature and rarely wastes it. Ever since moving away, i seek it perhaps as much as i seek word of noncommercial Chinese food.
So to my surprise, my first visit turned out mediocre, for all four of us. Maybe it was the hot July afternoon, but my five pieces of fish ceviche in a small glass sundae dish tasted warm and bland. The other dishes turned out not much better, though by now i no longer remember what else anyone ordered.
Many years passed before i tried again this past October. Though i would no longer call it inexpensive, the menu had become more Tex-Mex, featuring plenty of dishes with cheese and cream. Everything on my large plate, though, came out great! (Most Mexicans, like mammals and peoples all the world over, except for descendants of western and northern Europe, the Caucasus, and apparently Tutsis1, stop expressing
β-galactosidase (
lactase) as adults, so no longer consume milk products with lots of lactose. Unlike Tex-Mex and its permeations into northern Mexico, truer Mexican food contains little cheese and lactose.) Next time i pass via Canandaigua, i should try that location too. —JohnLam

---
2008-04-29 20:51:26 John: My surprising tolerance for double cheese pizzas makes all the more sense now in light of my ancestry. —ThomasPawlik
---
2009-03-06 19:20:35 Are they closed (for the winter)? Phone goes directly to voicemail. Has anybody driven by? —ThomasPawlik
---
2009-04-19 20:26:58 El Rincon is open for the season. —ThomasPawlik
---
2010-03-14 22:25:07 Opening April 1st 2010 for the season. —ThomasPawlik
---
2010-04-07 01:31:30 Without question, the best Mexican food in the Rochester region, except for the homes of the migrant community who inhabit the area. Wonderful salsa. She will not serve food that does not have the real ingredients. Although expensive, the food is really first rate, piquante and fresh. This is worth the drive from the city. —roadhog
---
2011-01-03 17:39:50 I love this place. The food is somewhat authentic, some americanized flavors come into some of their cooking but overall their food is certainly tasty. The best mexican fare i've had in the area so far, too bad it is such a hike! —jberna
---
2011-03-25 21:48:58 Opening April 7th for the season —ThomasPawlik