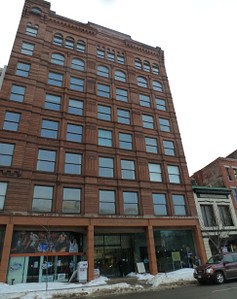 The Ellwanger & Barry Building is a historic building in the Four Corners neighborhood downtown. It was built in 1888 by Ellwanger and Barry as their office. The total cost, including the lot, was over $300,000. A contemporary description is worth noting because of the sidelight it throws upon the city at the time, whose population had just topped 130,000:
The owners of this most beautiful of all our local office buildings have just expended a large sum of money in repainting the walls and redecorating the stair-cases. The latter are now resplendent in silver bronze which blends artistically with the yellow and blue tiled floors and the bright walls with their imitation brick penciling in bright red lines. Every hall in the building is flooded with light from a line of enormous windows on the right hand side. On the first floor in the hallway stand two rubber trees with their glossy foliage, shining in the light streaming upon them from the windows. These form simply the beginnings of a collection of horticultural wonders which are to render the halls of the Ellwanger and Barry building beautiful with a collection of nature's handiwork which cannot fail to outrival anything that the hand of man has produced.
At eight stories, it was one of the city's first skyscrapers.
The Ellwanger & Barry Building was purchased in 2007 by Rochester developer Larry Glazer's company, Buckingham Properties and given a facelift.
Comments:
Note: You must be logged in to add comments