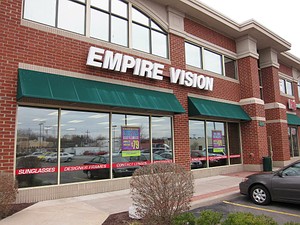 Monroe Ave Location, 04-2011
Locations
Phone
3246 Monroe Avenue, Rochester NY, 14618
585 385 4980
1663 East Henrietta Road, Rochester NY, 14623
585 424 7400
525 Titus Avenue, Rochester NY, 14617
585 544 6900
1028 Ridge Road, Webster NY, 14580
585 872 2200
2590 Ridge Road West, Rochester NY, 14626
585 227 7150
50 Cobblestone Court Drive, Victor NY, 14564
585 425 1770
6515 Brockport Spencerport Road, Brockport NY, 14420
585 637 3300
Hours (as of December 2008)
Monday: 10:30AM to 7:00PM
Tuesday - Friday: 10:00AM to 8:00PM
Saturday: 9:00AM to 4:00PM
Accessible
Assuming Yes to all locations
Website
http://www.empirevision.com/
Empire Vision is a Chain store Optician, similar to Sterling Optical.
Comments:
Note: You must be logged in to add comments
---
2010-11-16 17:42:03 The location in Henrietta is horrible. I recommend to all my family and friends not to go there. Their customer service is absolutely appalling! They treat everyone like trash, and they treat every like ghetto!!
The dr.'s speak broken English, and the receptionist needs to turn the hearing aide way up when patients call in!!
Do yourself a favor, and go to lens crafters or one of the other eye care specialists in our area! —Brianl1107