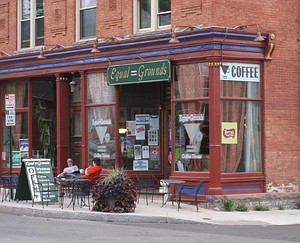 Looks different now, no awning and they stripped the green paint off the building 08-2009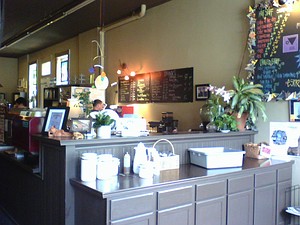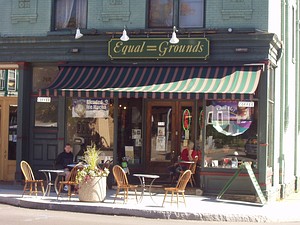 pre Aug 2009 frontage
Location
750 South Avenue, Rochester NY, 14620
Hours (as of June 2014)
Monday - Friday: 7:00AM to Midnight
Saturday/Sunday: 10:00AM to Midnight
Phone
585 256 2362
Wheelchair Accessible
Yes
Website
Facebook
Equal=Grounds (aka The Pride Connection) is an LGBT coffeehouse and cafe in the South Wedge. The menu includes fresh roasted coffee drinks, pastries, sandwiches, salads, and ice cream (seasonal).
Bring your laptop for complimentary wireless connection.
Pride is more than just triangles and rainbows, it's the freedom to be yourself within the community.
Equal=Grounds is co-owned by Assemblyman Harry B. Bronson.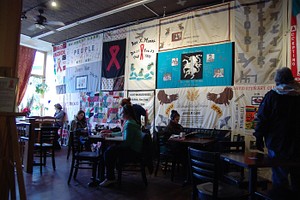 Sections of the AIDS Quilt are hanging at the Coffeehouse, 12-2010
Comments:
Note: You must be logged in to add comments
---
2007-03-26 15:06:35 Nice place, has wifi (what coffeehouse doesn't?), very roomy, would go again. —TravisOwens
---
2007-03-26 15:10:19 Never been in here, but everytime I walk by the coffee smells good and I see people eating yummy pastries. —KimBee
---
2007-04-08 19:27:00 The atmosphere there is fantastic and the (all vegetarian) wraps are delicious. I spend a couple evenings a week there just enjoying the ambience and writing.
---
2008-01-07 18:56:38 I've been reluctantly staying away . . . because I'm on a diet and the delectable smoothies and desserts were, and are, a sore temptation! —LindaLevitan
---
2008-01-20 10:38:40 My wife and I went in this place yesterday. The coffee was fantastic and the guy working the counter was really nice. He mentioned music on Friday nights. It's a great place with cool stuff to look at. —BigPun
---
2008-02-11 11:50:20 We came here on friday night for desserts and coffee and had a great time listening to live music. It's a great atmosphere, and all of our drinks came in great big mugs, which was a nice touch. I live near here, and it seems to be busier in the summer, but I was sad that it seemed so empty the night we were there. —SaraChristine
---
2008-12-18 10:32:33 We just started going here. This is th best latte in Rochester and the sweets are great. Service is very friendly and the atmosphere/decor reminds me of NYC. There are always people there so it has a sense of life to it but its never too crowded. This is a great place. —JamesPatrick
---
2009-05-19 18:57:12 I love this place to death, the coffee and food are great, but the staff can sometimes be rude. Perhaps I just chose the wrong days to go there holding hands with my heterosexual boyfriend, but because it advertises itself as an open-minded place, I didn't think there would be a problem with two straight supporters of the LGBT community showing up for some coffee.
But on the other hand, I've experienced some very nice staff here as well. It's a hit-and-miss. —mollymd

---
2009-05-19 20:01:29 Molly - My wife and I visited a few times after my first comment and we noticed the same rudeness from the staff and some patrons made it clear one night that we weren't welcome either. We stopped going. I'm cool if people want their own thing. I misunderstood about dogs and cats and getting along. —BigPun
---
2009-06-07 12:16:07 They have amazing chai and smoothies. I love the atmosphere, it's never packed so you can hear yourself think. I've brought my laptop many times and have done my homework while sipping a chai. EG is one of my favorite spots in the city.
MollyMd and BigPun, I'm really sorry to hear you guys had a negative experience there. I've never seen or experienced any rudeness from the staff or patrons. —jessypeters

---
2009-10-13 15:44:01 I was just in there on 10/11/09 and there was a notice that they are now opened 7 days a week. I think the Monday hours are 7am-midnight. —ChelseaBaleno
---
2009-10-20 12:13:51 the coffe was good, the service was a little rude. —AndreaDiem
---
2009-10-20 12:14:37 I had the same experience as the couple above, it seems only to be equal grounds if you are gay or lesbian, if you are straight you are snubbed. —AndreaDiem
---
2009-10-21 14:56:54 i have passed this place so many times. i actually grew up in that building. my father owns Hunt's hardware which used to have two locations. one of which being the lauterbach building (or equal grounds). honestly, i am afraid to go in there. i want to visit the place where i grew up and not have to worry about it being an unpleasant experience because the staff might be rude to me. i really would like to visit one day and see how its changed, though. and not that it matters but, the caption on the photo says the building was blue. it was green. trust me, if i were old enough to stop my dad from painting it that color, things would have been a little different haha. —MandaHunt
---
2009-11-16 20:28:58 I'm curious as to what exactly happened to the people who experienced "rude" treatment? I see a lot of these "I'm straight and people were rude to me" comments on this and other LGBT related establishment pages and have a hard time imagining what the circumstances were. How did the person who was rude to you even know you were straight? Just because you were two people of the opposite sex getting coffee together? Were you conspicuously making out while waiting in line? MandaHunt, please don't be afraid to check the place out... there is no alarm at the door that goes off whenever a straight person enters so that everyone inside can target them for rude behavior. Like a Starbucks employee has never been rude to anyone, jeez. —bmr
---
2010-03-11 16:51:57 I have been going to Equal Grounds since I moved to Rochester 5 years ago. I love this place. It is a really nice place to sit and read, knit, talk to people and eat some yummy food. I go here with my husband and we are always treated wonderful. They are very open minded and accepting of all. —RauncieRyan
---
2010-06-15 05:56:43 Recently began to work in teh neighborhood and stopped in for a coffee. The coffee was tasty, however the staff was bitter. I will have to think twice before returning. Saddened not as advertised as friendly for WHOLE family. —katern
---
2010-08-15 08:32:01 You guys are being a little crazy. It is open to everyone and families. My husband goes in with me all the time. My friends bring there kids. I've brought my in laws. It's called Equal-Grounds. EQUAL. They are not discriminating. You are. Also great cake! :) —PaulTaylor
---
2010-10-06 21:07:40 I am at Equal grounds right at the moment and it is superb. It is surprising how wonderful a place can be when they do kind and thoughtful things. I ordered a dry vanilla, almond cappuccino and when I went to pick it up he quickly apologized and said he meant to make it dry but made it on the wet side. Of course it is no problem with a little mix up like that and told him so. But even so he came and gave me a free drink coupon. I was flabbergasted. It was so thoughtful of him and everyone likes free drinks! They have phenomenal food that is different but not different enough to put you off from getting it and enjoying it; such as the jumbo wasabi roast beef wrap I am chomping on. The WiFi is fast and the ambiance is perfect. I think I am in love. The last thing to mention is I have never had a bad experience, I haven't gone too often but at random times at different times of the day the baristas are very friendly. They cater to your needs and bring things out to you if you don't hear them call it out, which is a unusual thing in Rochester. J'aime Equal Grounds. —aurorasmith
---
2010-12-22 22:46:25 PaulTaylor - I'm not discriminating. Just because someone is a part of the LGBTQ community doesn't mean they are nice. —mollymd
---
2011-05-19 14:32:03 One of my favorite coffee shops in the city, and the neighborhood is great for walking around. Nice and open, never too crowded, and delicious coffee, tea and food. I've only been coming here for a short while, but each time is nice. I come to sit, read, and enjoy a coffee. The baristas are very friendly. Occasionally the music is a bit on the loud side, and the atmosphere may not be as hip as Boulder or Java's, but overall, it is a very comfortable place to be. I will be returning often. —TonyFolenta
---
2011-06-08 22:43:49 I've been in Equal Grounds a couple times, quite recently, with my lady... and we've never even SENSED a bad vibe or attitude from anyone there, staff or guests! Wonderful espresso, check! Munchies absolutely dangerous, check! Attitudes... not once!
Either we both are completely oblivious to such things around us (unlikely for a pair of mid-40's pagan people-watchers, lol), or maybe we've just picked the right days... or maybe we were just comfortably being who we are, like everyone around us. Odd, I know... but anyway...
We adore the place. Good brews, good snacks, and a really comforting vibe... or we brought it with us ;) —DaveBlythe

---
2011-06-10 00:05:52 As a straight guy who doesnt much go to coffee houses, this isnt a bad place to take a date. Decent tea. Never had a problem here. —MetalFrost
---
2014-02-03 15:31:21 This was my absolute favorite study spot as an undergrad and I'm mad I forgot about it for so long after moving back as a graduate student! Barista is super nice, WiFi is the fastest of any coffeeshop I checked, and I love the atmosphere. Haven't tried the food recently, but I'm sure I will soon. Added bonus: run across the street for a drink at Cav's after a long day of coffee and studying :) —LauraShum