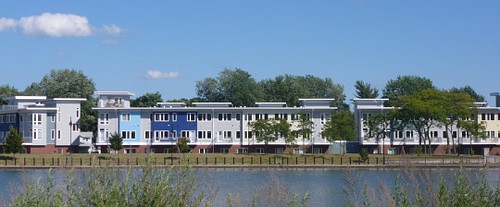 View from across the river.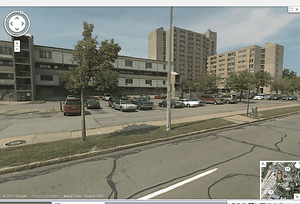 View of the old River Park Commons from Mount Hope, c. 2007 (via Google Street View)
Erie Harbor is a waterfront complex located in the South Wedge neighborhood. It features mixed-income apartments and townhouses for rent.
The River Clubhouse includes a professionally-equipped fitness and cardio center and a Great Room with a riverfront terrace and fire pit for entertaining. The Premier Suites were designed with contemporary upscale decor and have imported Italian porcelain tile, stainless steel appliances, and a waterfront balcony or patio for each unit. The Midrise Building has an underground garage, rooftop terrace with fire pit, and onsite laundry facilities. Erie Harbor also offer high-speed Internet from Greenlight Networks.
Conifer LLC is also the owner of The Hamilton Apartments next door. Both Erie Harbor and the Hamilton are located on the site of the former River Park Commons, which was demolished in 2009.
Zagster has 2 bike racks at the development.
Controversy
Although South Wedge residents and businesses welcomed the redevelopment of the riverfront site, the Erie Harbor's "colorful, cutting-edge, post-industrial design," when first revealed in late 2010, was met with
some resistance and even a
petition as being a poor fit for the Wedge's vintage character. One critic compared Erie Harbor to an Iraqi prison, while others took to calling it "Eerie Harbor" and planned to oppose it. On the other hand, Bob Boyd, Director of the South Wedge Planning Committee,
argued that the Wedge is known for its eclectic architecture.
Erie Harbor Enhancement Project (2012)
The Erie Harbor apartment complex had been constructed as part of an overall Erie Harbor Enhancement Project, a collaborative effort between the City of Rochester, Conifer Realty, and M&T Bank. A second phase of the project was announced in October 2012, promising additional improvements to the adjacent Genesee Gateway Park, including enhanced pedestrian access to the park and a new 12-acre promenade. 1
See also
Comments:
Note: You must be logged in to add comments
---
2012-07-07 09:10:15 Not sure why people were so angry about the design. I love it. It's playful and unique in Rochester. Both Erie and Hamilton are in their own space with nothing surrounding them except a bridge, the river, a large empty lot, and the street, so I'm not seeing how they "clash" with anything. —EileenF
---
2012-07-08 12:39:49 Considering the sh!thole it replaces, you'd think that people would welcome the change. But NOOOOOOO...... —alex-c