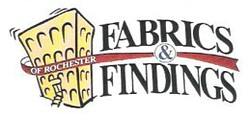 Location
30 Anderson Avenue, Rochester, NY 14607
Hours (as of February 2013)
Monday - Friday: 9:00AM to 6:00PM
Saturday: 10:00AM to 3:00PM
Phone
585 271 6120
Wheelchair Accessible
Yes
E-mail
<Jeremy@rochfandf.com>
Website
http://www.rochfandf.com/
Facebook
Fabrics & Findings is a home decorating store in the Neighborhood of the Arts. They offer a variety of custom-made options, such as headboards and ottomans, cushions and slipcovers, window treatments, and Oriental rugs. Also available is a full stock of upholstery and drapery fabrics such as cottons, vinyls, and leather, as well as foam and other supplies.
They also teach classes in DIY upholstery.
Despite the address, they are located in the Anderson Arts Building, which is actually 250 North Goodman Street.
Comments:
Note: You must be logged in to add comments