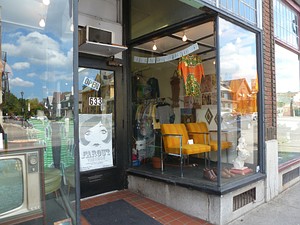 (Aug. 2012)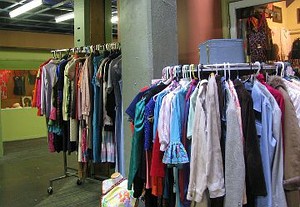 Original Village Gate location
Far Out Vintage was a men's and women's vintage clothing and accessories store in Monroe Village. Expect to find a '30s housedress between a '70s polyester wrap dress and a '60s sheath dress worthy of Mad Men. Prices were generally around $30-$60.

Far Out Vintage opened in 2009 and is owned by Michelle Zingo. Originally in the Village Gate complex, they moved to their Monroe Ave location, the former home of Lucky Lotus Tattoo, on February 1, 2012.

Rochester Teen Set Outsider could be purchased here.
The business was sold in 2015 and became JANE Vintage.
Awards

Voted "Best Secondhand Store" in City Newspaper's 'Best of Rochester' Awards in 2015.1
Comments:
Note: You must be logged in to add comments
---
2011-08-09 08:42:36 I LOVE this store! I've gotten two great dresses from the '60s that I like to wear to work. —EileenF