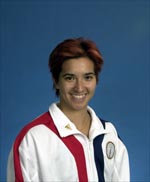 A two-time Olympian in women's foil competitions, the Rush native was one of the first female stars in American fencing. She competed in Atlanta in 1996 and Sydney in 2000. The U.S. women just missed medaling in the 2000 team event, settling for fourth place. The following year, she helped the team earn a bronze at the world championships — a first for the U.S.
A graduate of School of the Arts and Stanford University, Zimmerman began training at Rochester Fencing Club as an 8-year-old and wracked up four national championships from 1993 to 2000. Her gold medal in Italy in 1993 was the first by a U.S. woman at the Junior World Cup.
She was also the first woman to win both the foil (1998) and epee (1999) at the NCAA championships.
Her sister and fellow Olympian is Iris Zimmerman.