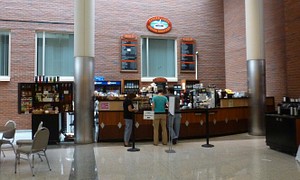 Flaum Atrium kiosk in Strong Memorial Hospital.
Finger Lakes Coffee Roasters is a regional chain of coffee shops and kiosks with locations in the Rochester, Buffalo, and Canandaigua areas. They also supply their coffee to other businesses. The company began with a single store in Bushnell's Basin in 1996 and has grown to over a dozen locations. Finger Lakes does its own roasting, and two of their coffees are Fair Trade Certified Organic.
Note that there are actually three kiosks in Strong Memorial Hospital, each with different hours. One is in the Flaum Atrium near the Medical Center's main entrance at 601 Elmwood, the second is in the main lobby on the Crittenden Boulevard side, and the third is an ATM location around the corner.
Awards
Voted "Best Local Coffee Roaster" in City Newspaper's 'Best of Rochester' Awards in 2015.1

Comments:
Note: You must be logged in to add comments