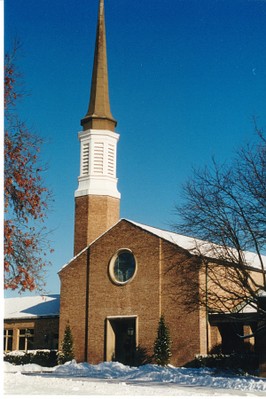 Location
175 Allen's Creek Road, Brighton NY, 14618
Phone / Fax
585 244 2468 / 244 2469
Hours/Service Schedule
Office: Monday-Friday: 9:30AM to 2:00PM
Sunday Services: 10:00AM
Sunday School (Youth & Children): 11:30AM
Adult Forum: 11:30AM
Accessible
Yes-with a Loop for the Hearing Impaired
Email
<office AT fbcrochester DOT net>
Ministerial Staff
Pastor Brent Bowden
Website
http://www.fbcrochester.net
Facebook
Twitter
First Baptist Church of Rochester was RocWiki's Business of the Month for January 2011!
First Baptist Church of Rochester is an
American Baptist Church dating back to 1818, whose welcome states:

"We seek to be a welcoming community where every child of God is included. Individually we espouse soul freedom, endeavoring to live by the moral and ethical principles taught by Christ and revealed in scripture, realizing that God is the ultimate and soul judge of our thoughts and actions. As a worshipping community, we celebrate and seek to be worthy trustees of God's creation in all its diversity. We uphold freedom of religious expression, expect no conformity to any creed, and strive for social justice within all human relationships." 1
Participatory activities include:

Adult and Youth Choirs


Bell Choir


Youth group activities


Bible Studies
FBC is also home to HealthCore Counseling and Consulting and Rochester English Country Dancing.

Comments:
Note: You must be logged in to add comments
---
2008-09-15 16:12:22 I would encourage my friends from RocWiki to consider FBC of Rochester if you are looking for spiritual guidance or a place for centering yourself, especially if you have kids. We have a growing Youth Program, a dynamic pastor in Kenneth Williams and a great adult program. I've been involved for 35+ years and still feel a wonderful sense of belonging. —PeteB