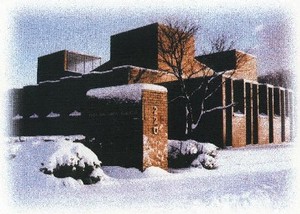 The building in winter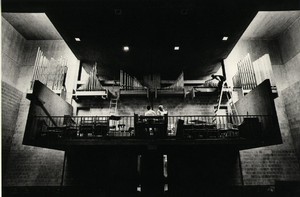 Installing the organ from the former St. Bernard's Seminary in the auditorium
Location
220 Winton Road South, Rochester NY, 14610
Services:
Sunday 9:30 and 11:15 AM (Labor Day through Memorial Day)
Sunday 10:00 AM (Summer, and remotely year-around during the pandemic)
Phone
585 271 9070
Website
http://www.RochesterUnitarian.org
The
church building for First Unitarian Church of Rochester was designed by
Louis Kahn and regularly draws architects, students, and other visitors from around the world. It is located in the Cobbs Hill Neighborhood and was listed on the National Register of Historic Places in 2014.
There is child care offered as structured religious programming for pre-school and school-age children and youth and Sunday during service. Also provided is loving care for infants and toddlers. The church is also LGBT welcoming. In the sanctuary there is a hearing loop and other options for the hard of hearing.
The congregation is theologically diverse (typical for UUs), including both theists and nontheists. The church has a long history of social justice activity (local historian Blake McKelvey once called it "Rochester's alert conscience and hospitable roof") which continues today in the form of support for marriage equality and other progressive (or, if you prefer, liberal) causes.
The congregation also supports music and arts in the community by hosting the Williams Gallery, a chamber music series and a coffehouse performance series that are open to the public. The Gardens of First Unitarian Church is open to the public as a park and is well worth a visit.
They are a Host Congregation for RAIHN.
Comments:
Note: You must be logged in to add comments