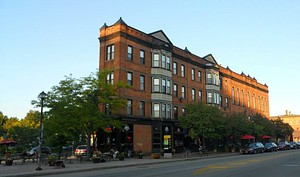 Flatiron during the day, 8-13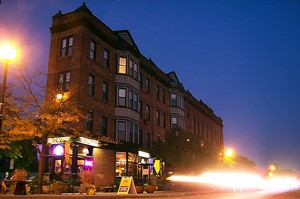 Flatiron at Night CC (No-Commercial) Attribute:
MJM
Location
696-712 University Avenue, Rochester, NY 14607
Occupant(s)
Commercial and residential
Wheelchair Accessible?
No
Pets
Info Needed
Property Owner
Paul Kramer
Architect
Info Needed
Construction
1888
The Flatiron Building (sometimes spelled "Flat Iron Building") is located situated on a wedge-shaped lot where Atlantic Avenue curves to intersect with University Avenue. It was built in various stages from 1888 to about 1890. Its triangular shape, narrowing from almost 100 feet to only twelve, is unusual and much like the other flatiron buildings in
NYC (but smaller) and
Toronto (similarly sized).
Originally a boarding house, the Flatiron underwent several stages of both decline and renovation and now holds upscale apartments and lofts, along with several businesses. It is an important part of the Neighborhood of the Arts.
Current Tenants

Former Tenants

See Also

References

Comments:
Note: You must be logged in to add comments