Frank-N-Steins is an upcoming gourmet hot dog restaurant in the Plymouth-Exchange Neighborhood. They will also offer beer from local microbrewers, sandwiches, and vegetarian options, as well as buns made fresh by local bakeries. Take-out and delivery will also be available, as well as outdoor seating. Prices will range from $8-12.
Owner is Anthony D'Alessandro, who also owns Deli Sandros next door. The opening date is scheduled for October 31, 2014.
The building, currently undergoing extensive rehabilitation, was built between 1890 and 1900 and in the past has been a mini-mart called Lucky Seven and before that, a Stamps Dry Cleaners. The second floor has two apartments. Owner is D'Alessandro House Buyers, run by Anthony's brother Joe.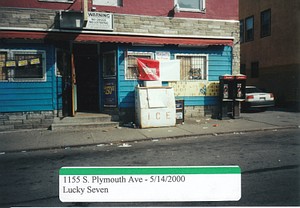 The building as it appeared in 2000 when it was Lucky Seven. View is from South Plymouth; building next door is today Deli Sandros. Photo copyright
Judi Baker. Used with permission.
See also:
Comments:
Note: You must be logged in to add comments