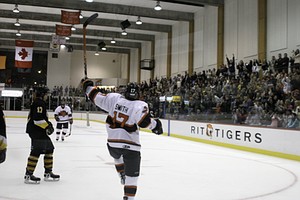 The RIT Tigers ice hockey team plays their home games at Frank Ritter Memorial Ice Arena
The Frank Ritter Memorial Ice Arena is an ice skating rink/hockey arena located on the Rochester Institute of Technology campus. It is the former home of the RIT Tigers Hockey team and the
Genesee Figure Skating Club.
The official capacity of the arena is 2,100, making it the third largest ice arena in the
Atlantic Hockey Association in seating capacity. It includes a concession stand, a press box and the President's Box. The ice surface measures 85' x 185'.
In 2014, the RIT Men's and Women's Ice Hockey teams moved into the new 4,300 seat Gene Polisseni Center.
History
The arena was opened in 1968 when RIT moved from its downtown campus. It is named for nineteenth-century RIT benefactor (Frank Ritter), who helped found the Mechanics Institute at the college. Ritter's grandson Frank Ritter Shumway also founded the Genesee Figure Skating Club.