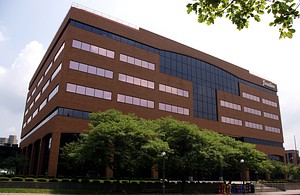 Former Frontier Communications building. Photo by
_yoshi_
Location
Various buildings throughout Monroe County
Phone Numbers
Fiber Sales: 214-0886
Customer Service: 777-1200 or 1-800-921-8104
Internet Help Desk: 777-7873 or 1-800-239-4430
Repair: 1-800-921-8104
Website
https://frontier.com/
Frontier Communications began life as Rochester's home-grown telephone company, Rochester Telephone Company or "Rochester Tel". In the 90's, Rochester Tel expanded to provide nationwide long-distance via a fiber optic network. Rochester Tel changed its name to Frontier in 1995. It was acquired by Global Crossing in 1999, which later sold the Frontier name and local exchange properties to Citizens Communications in 2001. Frontier provides phone and DSL Internet service to consumers in the Rochester area, as well as a full range of business communications services. In 2008 they changed the corporate name from Citizens Communications to Frontier Communications for all business operations.
On July 30, 2008, Frontier announced plans to implement a usage cap on residential DSL service which limits customers to 5GB of data transfers per month. However, this usage cap has not yet been enforced.
On Monday October 13, Frontier opened a Retail Store on Jefferson Road in Frontier Commons. The store was full service- handling Billing issues, new Service Orders, entering Repair tickets for service issues. It closed in 2018.
History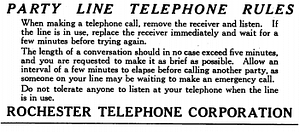 Advertisement in 1931 Rochester City Directory
Founded in 1920 as Rochester Telephone Company (RTC), it operated under that name until 1995.
Comments:
Note: You must be logged in to add comments
---
2021-05-11 19:55:38 CWA Local 1170 is a labor union that supports Frontier employees —peteb