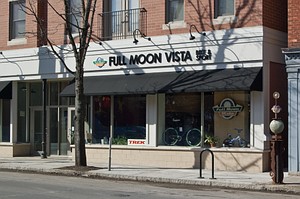 Full Moon Vista's formervstorefront on South Ave.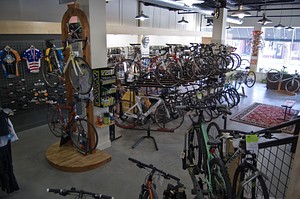 Interior shot of Full Moon Vista
Location
1239 University Avenue, Rochester NY, 14607
Hours
Hours Vary by Season - See Website
Phone
585 546 4030
Wheelchair Accessible
Yes
Email
<scott AT fullmoonvista DOT com>
<shana AT fullmoonvista DOT com>
<brian AT fullmoonvista DOT com>
Website
http://www.FullMoonVista.com
Facebook Page
Full Moon Vista is a full-service bike shop located in the Culver/University/East neighborhood, across from The Revelry. They sell bikes and accessories and offer repairs and fittings. Full Moon also sponsors weekly rides and offers clinics on different bike topics. Owner Scott Page is the promoter and race director of the Rochester Omnium.
They also sell accessories from local designers EvenOdd Creative.
Full Moon Vista was originally located in the St. Paul Quarter. Then moved to the the South Wedge in the South & Hickory Place building in 2011. In February 2017, they moved to University Avenue. They sell Trek, Scott, Bianchi, Pure Fix and Seven Cycles, bikes.
See also: The Physical Forum
Comments:
Note: You must be logged in to add comments
---
2008-03-09 09:19:31 I'm surprised that nobody has commented on Full Moon yet. For a new shop, I think Full Moon is great; the great products they carry are backed by a knowledgeable and friendly staff. Although I primarily ride vintage and antique road bikes, I frequently make visits to Full Moon for tools, parts and accessories. Full Moon is definitely one of my favorite shops in the area, hands down. —JustinSchmidt
---
2008-03-31 14:56:12 I finally decided to get a road bike and wanted to get it from a good bike shop. I went to 5 different shops in Rochester before deciding on Full Moon Vista. It really is good. The staff was friendly and knew what they were talking about. They took there time explaining things to me instead of just trying to make a sale. If you looking for a bike I'd recomend checking them out. —GeorgeBluth
---
2008-07-05 18:05:15 i personally was disappointed by full moon vista after all the rave reviews i had heard. most of the stuff carried on hand that i was looking for was stock and middle of the road to plain high end. the selection was a little limited on what i was looking for. however, the staff was very accommodating, and one of the mechanics even looked at home for a part i needed and called me back about it the very next day. —travisjames
---
2008-07-27 12:23:54 the staff is hit or miss when it comes to knowledge, salesmanship, and manners. some are decent, most are mediocre. their stock of bicycles and some accessories is very limited and the store layout though comfortable is a little haphazard. probably in the lower half of all bike shops i've been to all over the country. have had better experiences at park ave, towpath, and even towners. 5 out of 10. —mrdonut
---
2009-03-06 13:55:39 I went in for some bicycling clothing not having any idea what I needed. The staff was kind, patient, and helpful, not aloof and condescending like at many shops. I will definitely return when in the market for a new bike. —RobertFrapples
---
2009-04-26 21:11:23 FMV has to be one of if not the best bike shops in the ROC area. The bike selection on hand, while not crazy extensive gives a good idea of what you are looking for, and ordering is very quick. They way they actually take the time to custom fit the bike to you is impressive to say the least. Also, the workmanship of the mechanics is top notch. I'm never going anywhere else for my biking needs. —VinylDreams
---
2009-08-21 15:55:47 I've had nothing but good experiences with FMV. After some problems at Towner's, I took my bike into FMV (on a friend's rec.) to get the rear derailleur adjusted. They did this quickly, let me watch as they did it while answering my annoying questions, and I haven't had problems since. I also bought a pair of cycling shoes and pedals from them. They installed the pedals and fitted the shoes/cleats free of charge, and spent a good half hour with me on a trainer and in the parking lot making sure I knew how to use the shoes properly (also free). Both times I dealt with a guy named Kyle, who has been polite, knowledgeable, and helpful to a degree probably beyond the call of duty. I plan on getting a new bike some time next year and will probably go to FMV—I'd rather make an informed decision given a relatively limited set of options than be hustled into buying a bike that isn't right for me from a huge range of options. —AlexFine
---
2011-02-05 16:50:29 I read in the Feb/March edition of The Wedge they will be moving in the spring to the southwedge at South & Hickory Place. —ScottHendler
---
2011-05-13 17:40:31 I recently bought a bike here. Kyle and the owner Scott, as well as a bunch of other staff have been super friendly and put up with my BS while I over-researched everything before buying a road bike. I was sooo happy I went back and bought my GF a road bike also a few weeks later. They are all around good people — they are always busy so you need to be a little patient — but once they get to you they really take care of you. Props on the fitting and they let me take a 25 mile test ride. —PunkRokk
---
2012-07-25 12:32:25 The wheels off my bicycle were stolen in Washington DC. I left the bicycle in my basement while I focused all my time and money on motorcycling. Recently I decided to resurrect the poor dilapidated bike. Since I live in South Wedge, I simply walked over to FMV with my bike. The staff checked out the bike (bearings, etc.) and showed me the parts that they'd be installing (new wheels, new tires, new cassette). The price of parts and labor were just right. Presto, a fully-functioning, checked-out bicycle stood waiting for me the next day! Two days later, I cycled on Rochester's beautiful bike paths to Charlotte Beach and am, obviously, happy as poop. Thanks, guys. —bammerburn
---
2014-06-07 08:17:43 Full Moon Vista is THE BEST! I admit, I never heard of them before doing a google search, but boy, I was glad to find them! I went in looking for my fist road bike. Holly and Shanna were unbelievable. They spent 45 minutes fitting me to the bike before letting me ride it. I was up on the trainer while they took different measurements and swapped out parts to ensure the bike was the right fit before my test ride. They easily spent 2-3 hours with me over the course of 2 days. Holly is such a wealth of knowledge and was giving me tips the entire time she was working with me. One of the days I went in, Holly was in working on her bike. Even though it was her day off, she was still helping me out and seemed to genuinely care that I had a good experience. I am recommending VMF to all my friends as their customer service is top notch. A++++++++ —dmarie
---
2017-01-07 21:43:14 Moving to University Avenue in 2017. —scotthendler