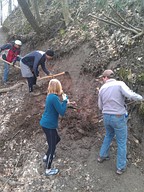 Trail Repair in Irondequoit Bay Park West
The Genesee Regional Off-Road Cyclists, or GROC, is a shared-use trails advocacy group in the Rochester area. The group consists of hundreds of members, who volunteer to educate trail users, work with government agencies, collaborate with local cycling industry leaders, put on community events, and build and maintain local trails.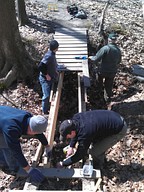 Bridge repair at Irondequoit Bay Park West
The GROC Trail Crew currently builds and maintains trails at the behest of Monroe County Parks in Tryon Park and Irondequoit Bay Park West. They also work with Victor parks and recreation to build and maintain the trails at Dryer Road Park. Trail work is generally organized via a Meetup group,
http://www.meetup.com/GROC-Trail-Crew, which anyone is welcome to join and come help maintain our beautiful local trails.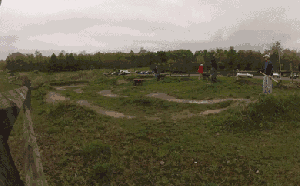 GROC Singletrack Academy is an educational program run during the summer each year to teach mountain bike riders of all skills and ages the knowledge and skills needed to tackle whatever the trail may bring.
GROC Patrol is the local Rochester IMBA National Mountain Bike Patrol group, whose members patrol local trail systems to assist with outdoor first aid, trailside bike repair, off-road riding and trail use education.
Comments:
Note: You must be logged in to add comments