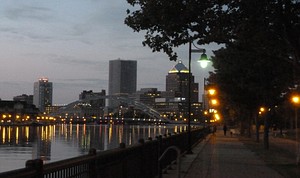 Summer evening view of the downtown skyline from the Genesee Gateway Park.
The Genesee Gateway Park is a riverside park that marks the entrance to the Genesee River Trail. It is located in the South Wedge, next door to the Hamilton apartment building. Following the trail south will take you to the Ford Street Bridge and eventually the University of Rochester River Campus.
Amenities include benches, picnic tables, a playground, fitness equipment, and a basketball court, as well as some good spots for fishing. A car-top boat launch, equipped to handle kayaks and canoes, is also available.
Erie Harbor Enhancement Project (2012)
Following the completion of The Hamilton Apartments and Erie Harbor, the City of Rochester, in partnership with Conifer Realty and private equity investor M&T Bank, announced additional improvements to the Genesee Gateway Park in 2012. The Erie Harbor Enhancement Project promises enhanced pedestrian access linking the park and neighborhood and a 12-acre riverfront promenade extending from the Ford Street Bridge to 151 Mt. Hope Avenue. There are also plans for a public art installation. Funding is being provided by city bonds, city cash, and a waterfront revitalization grant from the New York Department of State.1
| | | |
| --- | --- | --- |
| Hamilton is to the left. (Aug. 2012) | Views of downtown and Corn Hill Landing (located across the river) in the background. | Looking towards Mount Hope Ave. What those columns are supposed to be is anyone's guess. |
Comments:
Note: You must be logged in to add comments
---
2012-08-06 14:37:08 Dear City of Rochester,
You have here a bustling park with a very nice riverside trail and stunning views of the downtown skyline. And just look at the place! Ruined, overgrown paths and pavement; ugly concrete crap apparently left over from that old public housing complex; and, to top it off, a vast, empty untamed expanse that resembles an abandoned lot, which is actually what I thought it was until Google Maps revealed that this is whole thing is in fact a park. In recent years this portion of Mt. Hope Ave has seen a vast improvement in the form of Erie Harbor and the Hamilton, and there is even a new restaurant scheduled to open across the street. Let's not quit while we're halfway there.