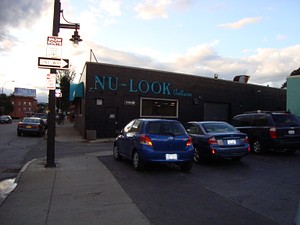 Monroe Village location, Sept. 2011
Locations
Phone
280 Monroe Avenue, Rochester NY 14607
585 454 5558
8148 Buffalo Road, Bergen NY, 14416
585 494 2449
2562 NYS Route 332, Canandaigua NY, 14424
585 394 2660
1177 Fairport Road, Fairport NY, 14450
585 377 4610
15 Elmgrove Park, Gates, NY 14624
585 247 1522
1931 Lyell Avenue, Gates, NY 14606
585 506 4500
1690 Manitou Road, Greece NY 14626
585 352 1177
1271 Ridge Road West, Greece, NY, 14615
585 663 2620
1301 Ridge Road East, Irondequoit, NY 14621
585 467 2000
840 Lehigh Station Road, Henrietta NY, 14586
585 321 3010
7000 West Main Road, LeRoy, NY 14482
585 768 7877
941 Ridge Road, Webster NY, 14580
585 340 1870
Hours (as of Aug. 2011)
Monday, Wednesday, Friday: 8:00AM to 5:00PM
Tuesday and Thursday: 8:00AM to 5:30PM
Saturdady: 8:30AM to Noon
Wheelchair Accessible
Varies by location
Email
Info Needed
Website
http://www.NuLookCollision.com
Facebook
Gerber Collision & Glass is a local chain of collision repair shops. Founded in 1981, they have twelve locations in the Greater Rochester area, Steuben County, and Syracuse and provide free shuttle service and on-site Hertz rentals.
Awards
Voted "Best Auto Repair Shop" by City Newspaper's 'Best of Rochester' Awards in 2015.1


For the past thirteen years (as of 2014) they have been voted best "Auto Collision Repair" in the Democrat & Chronicle Rochester's Choice Awards.
Comments:
Note: You must be logged in to add comments
---
2015-04-02 08:53:36 The Webster location is awesome. Delta Sonic scratched my car during the drying process, and denied responsibility. My husband was getting work quoted at Nu Look, and mentioned how my vehicle had been scratched, and the woman he was speaking with (Tammy) said she'd be happy to take a look and see what they could do. I brought my vehicle in 30 mins before they closed and not only did she look at it right away, she had the team buff out the scratches at no charge and took the time to show me what had been done. Highly recommend. —jbeez
---
2015-09-23 09:22:19 There are now a few additional Nu-Look locations: 1690 Manitou Road, Greece NY, 14626 585-352-1177
1931 Lyell Avenue, Rochester NY, 14606 585-506-4500
7000 West Main Road, LeRoy NY, 14482 585-768-7877
6824 County Route 68, Hornell NY, 14843 607-324-9814
Also, to update:
"Founded in 1981, they have thirteen locations in the Greater Rochester area..."
"For the past thirteen years (as of 2014) they have been voted best "Auto Collision Repair" in the Democrat & Chronicle Rochester's Choice Awards." —AmberCohick