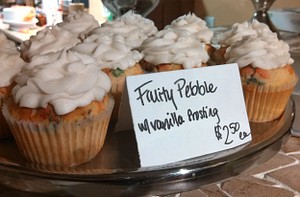 Fruity Pebbles Cupcakes !, 4-2013
Location
274 North Goodman Street, Rochester, NY 14607
Hours (as of July 2017)
Monday: 12:00PM to 6:00PM
Tuesday - Friday: 12:00PM to 9:00PM
Saturday: 10:00AM to 7:00PM
Sunday: CLOSED
Phone
585 319 4314
Wheelchair Accessible
Yes
Alcohol
No
Email
<getcakedroc AT gmail DOT com>
Website
http://www.GetCakedRoc.com
Facebook
Get Caked is a bakery in the Village Gate. They specialize in elaborate customized cakes and cupcakes for weddings and other special events. Vegan and gluten-free options also available.
They also sell cupcakes and cookies on a daily basis.
Get Caked opened in March 2013, and is owned by Kelly Halligan, who has celiac disease.
Comments:
Note: You must be logged in to add comments