Playing Golf in Rochester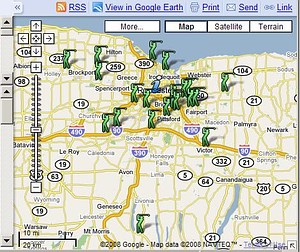 RocWiki Golf on Google Maps
Golf (aka Golfing) is an important sport for Rochester. For a city of its size, and considering the length (or shortness, to be more precise) of the golf season, Rochester has a great number of courses, ranging from very inexpensive municipal courses to world class country clubs. Beyond the availability of golf in the area, Rochester also has many links to golf. Walter Hagen, one of the greatest golfers ever was born in Rochester, Robert Trent Jones, a world renowned course architect spent most of his childhood in East Rochester, and PGA Tour Pro Jeff Sluman was born in Greece.
Rochester was rated #10 on The 10 Best Golf Cities in America list put out by the national publication Golf Magazine. Read more:
Golf.com's The 10 Best Golf Cities in America
Population: 1,036,920
Median home price: $106,900
Number of public courses: 64
Median green fee: $30
To learn more about each of the courses and view photos visit
Golf Local - Rochester .
See RocWiki Golf Courses a Google User Map linking together the courses listed on this page. Or download the RocWikiGolfCourses.kml for use in Google Maps or Google Earth.
'Professional Events
Notable Private Courses
Notable Public and/or Semi-Private Courses
Executive - Par 3 Courses
Driving Ranges
Indoor Golf Simulators
Notable Golf Celebrities
Golf Stores and lessons
Golf Links