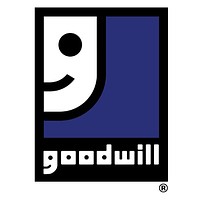 Logo, Reg

Signage: Sep 2008 BradMandell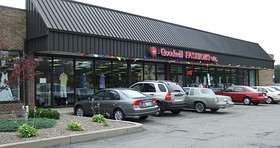 Webster Photo: Aug 2008 BradMandell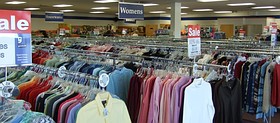 Womens: Sep 2008 BradMandell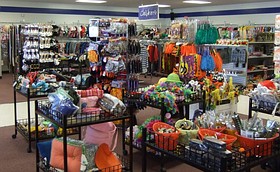 Childrens: Sep 2008 BradMandell
Address1
Location
Phones
376 Jefferson Road, Henrietta, NY 14623
Jefferson Plaza
585 427 7140
1518 West Ridge Road, Rochester, NY 14615
Stoneridge Plaza
585 663 5220
451 South Clinton Avenue, Rochester, NY 14620
Rochester
585 262 3330
1807 Nathaniel Poole Trail, Brockport, NY 14420
Brockport
585 637 5610
50 Webster Commons Blvd, Webster, NY 14580
Webster
585 217 5840
3654 Dewey Avenue, Rochester, NY 14616
Greece
800 466 3945
34 Eastview Mall, Victor, NY 14564
Eastview Mall
800 466 3945
Donation and Drop-Off at various Donation Centers throughout the area
Goodwill Stores/Fashions is a chain of thrift stores operated by the
Rochester Association for the Blind and Goodwill Industries.
Profits from sales at the stores go to support of services for the blind and visually impaired in Rochester:

"To prepare and empower people who are blind or visually impaired to be self-sufficient and contribute to their families and communities."2

Please refer to
ABVI-Goodwill's Donation Page for information about donating your things to Goodwill. Information also available about donating cars and computers.
In 2011, Goodwill opened their first regional boutique store in Pittsford called Blue but converted to Goodwill Outlet in 2019.
Comments:
Note: You must be logged in to add comments
---
2008-07-14 19:04:45 My wife and I shop the local Goodwill store for great buys, especially for some inexpensive "knock-around" or "yard work" clothes. If you have not browsed one of the stores, give it a look. The newest store is behind the new Super Wal*Mart in Brockport - I got a very nice lightweight zippered jacket with hood there for less than $10. —BradMandell
---
2011-11-02 17:43:03 Attention: Stone Ridge Plaza Goodwill Store - Please advise if you are still open and how best for me to order a gift certificate to your store. I currently serve on the Goodwill Board of Directors in Charlotte, North Carolina so would like to support Goodwill in Rochester. Specifically, at Stone Ridge Plaza. Thank you! —MarilynnBowler
---
2011-11-02 18:07:59 Marilyn, this page is not run or maintained by Goodwill. It's unlikely they'll ever see your request. You'd be much better off using the contact phone numbers at the top of the page. —RichMulvey
---
2012-10-20 16:49:20 Old Navy turtleneck and jeans from Banana Republic and Tommy Hilfiger for a total under $20. All in like-new condition. I love this place. —EileenF