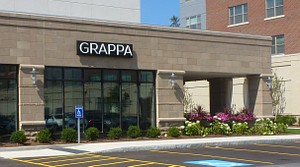 Location
30 Celebration Dr, Rochester, New York 14620
Hours (as of October 2015)
Monday - Thursday: 6:00AM to 12:00AM
Friday: 6:00AM to 2:00AM
Saturday: 7:00AM to 2:00PM
Sunday: 7:00AM to 11:00AM
Phone
585 445 5770
Wheelchair Accessible
Yes
Alcohol
Yes
Email
<estandish AT delmontehotels DOT com>
Website
http://www.GrappaRoc.com
Facebook
Reviews
2015-10-11 Rochester Woman
Grappa is an Italian restaurant in the Hilton Garden Inn at College Town. Their menu includes pizza and features many local, in-season ingredients.
Catering and outdoor seating available.
Grappa opened in June 2015. They are owned and managed by the Del Monte Hotel Group, which also runs the Del Monte Spa, Erie Grill, and other local properties.
Comments:
Note: You must be logged in to add comments
---
2015-09-07 17:23:53 This place is garbage. The staff are rude, you will not be seated in a timely manner even with a reservation.
The place is located in a strip mall attached to a hotel and is full of vulgar tourists in shorts and t-shirts staying at the hotel while they drop their children off at school. —Cretinx