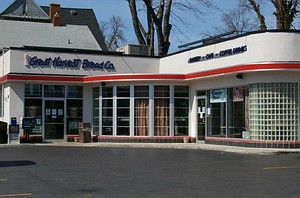 Park Avenue Location 3-2008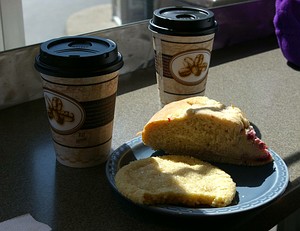 Some goodies at Great Harvest 3-2008
Former Rochester Locations
210 Park Avenue, Rochester, NY 14607
1890 Monroe Avenue, Rochester, NY 14618
Status (as of August 8, 2018)
Closed
Great Harvest Bread Company was a national chain in the Rochester area which was rebranded from their former Montana Mills name. The stores specialized in fresh-baked bread and pastries, with free samples of breads provided.

The Park Avenue location was a combination of scratch baked bread, coffee, and sandwiches. The building was re-purposed from a gas station. The Monroe Avenue location was a more traditional store where they did all of the baking.

The unique layout of the establishments gave them a surprisingly charming atmosphere.
Comments:
Note: You must be logged in to add comments
---
2007-02-28 12:11:46 Surprisingly good challah. I dig the honey-wheat and a lot of the specialty breads as well. The Park Ave location has friendly staff and makes good sandwiches (try the herb mayonaise). —EastSideStephen
---
2011-11-03 15:09:55 Quite possibly one of the best "hidden" coffee places in town. Plentiful outlets for working or surfing, free (open) wifi, large windows to watch people walking by on Park and Goodman, samples of their fresh breads, and a wide variety of drinks and food - I was astounded not to find anyone working here when I stumbled upon it. —sbhere