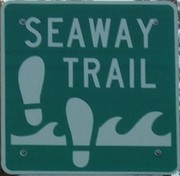 Trail Signage - BradMandell
The Great Lakes Seaway Trail is a scenic route consisting of designated roads and highways spanning the Eastern half of Lake Erie, Lake Ontario and the Western portion of the St. Lawrence River.
Locally, the route uses the following roads listed below. Click through to individual entries for listings of attractions and services on that stretch.

State parks and attractions are peppered along the trail. These include, to name a few (a very few):
Comments:
Note: You must be logged in to add comments