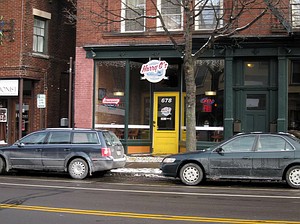 Exterior, Jan. 2013
Location
678 South Avenue, Rochester NY, 14620
Hours (as of December 2015)
Monday - Thursday: 10:00AM to 9:00PM
Friday/Saturday: 10:00AM to 10:00PM
Sunday: 10:00AM to 5:00PM
Phone
585 256 1324
Wheelchair Accessible
No
Alcohol
Yes
Email
<harrygsnydeli AT gmail DOT com>
Website
http://HarryGsDeli.com
Facebook
Reviews
2013-04-17 City Newspaper
Harry G's NY Deli & Cafe is a cafe, bar, and deli in the South Wedge for take-out or dine-in. They serve breakfast sandwiches and specialize in corned beef, pastrami and reuben. They also offer a wide selection of sides, salads, homemade soups (chicken noodle and matzoh ball) and soft drinks. Everything is made to order. They also sell meat by the pound and also feature homemade desserts. Free wifi available.
Harry G's opened on May 16, 2012. Their "Pittsburgh" sandwich
won critics' pick in the City newspaper as being the "Best Meal in Your Mitts" later that year. In 2015 Harry G's broke through the wall and expanded into the previous location of Banzai Sushi Bar & Lounge, which added extra seating and a new bar.
Links
Comments:
Note: You must be logged in to add comments
---
2012-05-16 09:13:28 The Deli looks like it opened today. I cannot seem to find a menu. —jmurphy
---
2012-05-18 22:43:18 Gave a try for lunch. They were a little slow but I think that will get better since they have only been open for 3 days. One of the best Rubens in the area. Good Corned Beef, close to Fox's. Good addition to South Wedge. —ScottHendler
---
2012-05-25 12:46:47 I got real excited when I heard a New York Style deli opened in Rochester.  I am originally from New York and have had the real thing. So here is my review:  it does not have the feel and warmth that I expected.  It has a very sterile and too open feel to it.  I dislike the fact that the food is not served in plates, coffee not served in mugs, salt and pepper in packets.  Eating out of styrophome when eating in is a real turn off.  This is not a New York Deli!
My excitement quickly disappeared.  Breakfast was okay.  I asked for over medium eggs and they were well done.  The bacon was undercooked, the hashbrowns were similar to McDonalds.   A friend had lunch there and ordered a Ruben and said it was pretty good.  He liked the way the meat was sliced and the quantity was good.  I have yet to try a corn beef or pastrami sandwich which would be a true test.  But, again eating out of styrophome makes me hesitate going back.  I guess they don't want to deal with washing plates etc. is the reason they serve their food that way.  For me it is a mistake not to serve on plates, serve coffee in mugs, use real utensils.  If they want to be a new York style deli, they need to do things like a New York style deli.
Sorry, I guess when I want to eat "deli", I will have to go down to Katz's in Manhattan at least till Rochester or Harry G's offers a "real New York Style Deli". —AlanG

---
2012-05-29 09:11:47 As the previous reviewer stated, this is a poor imitation of a "New York Style" deli. I mean, they don't have blintzes, they were out of knishes,they don't stock Yoo hoo, Stewart's sodas, or even Arizona iced teas. They have a merely passable hot pastrami sandwich, but the rest of the menu is filled with cutesy New york sounding names. The 'help' there seem to range from 'perky' to 'clueless'. They try to charge New york prices, however.....
BTW, if you doubted the authenticity of this place, a quick look at the business license shows that the manager's name is Brandon. A friend of mine once told me "Never order a hot pastrami at a goyische-owned deli". I think he was right. I don't expect this place to last. —Alex-C

---
2012-08-09 13:15:09 @Alex-C Nice job of "friend" covering your bigotry. It's very useful to spill bile spoken by others. —TomDelaney
---
2012-08-09 16:45:24 What are you talking about, Tom? Your post makes no sense. —alex-c
---
2012-08-09 18:49:16 Alex-C: "goyische" is defined as: "Hebrew/Yiddish term for someone/thing which is not Jewish." So you're stating that a non-Jewish deli can't make a good Pastrami sandwich. That could be construed by some (not necessarily myself) as a reverse slam on non-jewish businesses. —peteb
---
2012-08-09 21:07:14 Well, considering my friend's middle name was "Moishe", I kinda doubt it. BTW, don't you mensches have anything better to do than to kvetch about a post I made nearly 3 MONTHS ago? Oy, gevalt! —alex-c
---
2012-08-20 15:22:29 Alex, I'm still confused as to why I can's/shouldn't buy a sandwich from someone named Brandon. Could you enlighten me?
As for the 3 month lag time, sorry! I wasn't aware of statutes of limitation on veiled bigotry. —TomDelaney

---
2012-08-27 08:37:26 Got a Buffalo Chicken sub from here yesterday, it was excellent! The bread was thick but much softer than DiBellas and didn't overwhelm the sandwich. I called the order in and it was ready in under 10 minutes. They even wrapped the sandwich up in foil so I could bring it on my bike, and got rid of the pickle. —PDub
---
2012-10-21 11:50:34 Their Pittsburgh sandwich just won the "City" newspaper's critics' pick for best sandwich for 2012. I'm pretty sure that this place will last. —bammerburn
---
2013-11-27 10:39:28 This place has lasted and will obviously last for a long time. Great food, good service. I think I found my go-to with that eggplant and prosciutto sub, though. The place is always busy, always gets great reviews, and all of my friends love it. —DE
---
2014-06-05 15:04:02 I have eaten here twice and had their food catered to a party. I've become good friends with the family who owns it and find their food to be extremely satisfying. I would recommend this place to a newcomer of Rochester as well as someone who has been here for a bit who wants to get their hands on something new. This is a great place! —SRB
---
2016-10-12 16:13:32 I like the new bar area and they had some decent beers on tap! Nice addition. I don't know why I don't go here more often. —DE