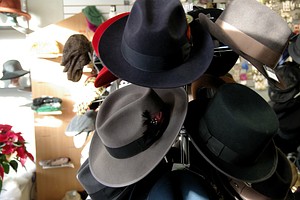 Some choices for your head, 12-2010
Former Location
524 Mount Hope Avenue, Rochester NY, 14620
Status (as of November 2017)
Closed
We specialize in Fedoras, genuine fur felts, wool felts, Kangol, Panamas, Stacy Adams, Bigalli, Christy's, SPECIAL ORDERS AND ONE OF A KIND HANDMADE FASCINATOR PIECES...Serving men, women, and children!

Headz Up Hats was a retail hat and accessories store in the South Wedge. They sold hats for men, women, and children.

Originally located at 647 South Avenue, they moved to their Mount Hope Avenue space in September 2011 and closed in October 2017.
Comments:
Note: You must be logged in to add comments