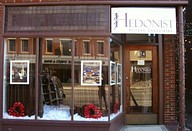 Hedonist's shop on South Avenue
Inside Hedonist's newly expanded shop
Hedonist Artisan Chocolates was RocWiki's Business of the Month for February 2012!
Hedonist Artisan Chocolates is a chocolatier operating on South Avenue in the South Wedge. The company's website claims they "hand crafts Hedonist truffles and chocolate treats with French chocolate and fresh, natural ingredients. Each piece of Hedonist chocolate is rolled, cut, dipped and decorated by human hands in small batches." You can purchase chocolate at their retail shop or order online. You can buy a more limited selection from their
local retail outlets.
Hedonist Artisan Chocolates is owned by partners Jennifer Posey and ZahraLangford.
On June 1, 2012, they opened an ice cream shop next door called Hedonist Artisan Ice Cream. They also own Little Button Craft & Press.
Awards
Voted "Best Candy/Chocolate Shop" in City Newspaper's 'Best of Rochester' Awards in 2015.1
Comments:
Note: You must be logged in to add comments
---
2008-10-12 22:54:57 Our realtor sent us a box of these after the purchase of our last house. We also recently received a box of as a wedding favor. Yum! Robust flavors, delicate presentation, depth, creativity... really nice chocolates. My favorite is the ginger. —MariahBetz
---
2009-01-06 20:36:37 Simply delicious! Check out one of their tasting events if you get the chance. The storefront is tucked away in an alley near Lux and the alley is adorned with white xmas lights. Very cute. I gave a few boxes of chocolate to family/friends for xmas, and they were all extremely impressed with the unique and tasty flavors(eggnog, pomegranate, ginger, etc). You can also design your own box and choose which truffles you'd like to be included. Highly recommended!! —TrishHeckmann
---
2009-03-31 12:32:55 Really good, very unique chocolates. Well worth picking up a box or two. Theres nothing else like it in Rochester. —GeorgeBluth
---
2010-05-13 13:11:38 I love all the unique truffle flavors that the owners/interns come up with! Definitely worth checking out; everything they sell is top-notch quality. —AdrienneDahler
---
2010-10-05 11:00:54 In general I prefer to eat dark plain single origin cacao chocolate bars, but for Hedonist Chocolates, I definitely make an exception. They have hand crafted chocolates and truffles in many interesting and unique flavors. I take out of town visitors there as part of the "Rochester tour" and when I travel to visit friends and relatives, I usually take gift boxes from Hedonist Chocolates. —KairakuShugisha
---
2011-07-23 13:15:40 Amazing chocolates. I stopped in for the first time to pick out Easter treats for my family and the smell of chocolate when I walked in the door was fantastic. The staff was great at making suggestions and I walked out with a ton of chocolate—all received great reviews from my family. I especially recommend anything that pairs chocolate with big crystals of salt. —elizabethyockel
---
2011-12-05 21:06:38 They have expanded and now have a front entrance. They have taken over two store fronts and have a larger show room and a tasting room. YUM!!!! —ScottHendler