Location

Herman's Market Fruit - April 2008

741 Five Mile Line Road, Webster NY, 14580
Hours (as of August 2009)
Monday - Friday: 8:00AM to 7:00PM
Saturday/Sunday: 8:00AM to 6:00PM
Phone
585 671 1246
Accessible
Yes
Website
http://www.HermanFarms.com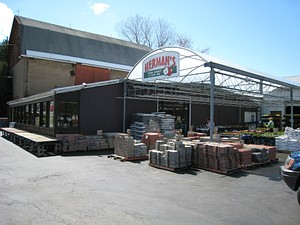 Herman's Market Outside - April 2008 Herman's Farm Market is a well-stocked farm market just 0.7 miles north on Five Mile Line Road from Route 104 in Webster. Always a nice selection of local fruits and veggies. Flowers when in season and basic garden stuff too like soil and mulch. Apple cider available pretty much year round. Always some baked goods including cookies, and pies, but the best time is the fall when they crank out the homemade fried cakes (donuts). Great place for your Halloween pumpkin.
Herman's is a recommended, pre-park stop to pick up "carry-in" for a number of Webster parks and attractions.

Sandbar Park - 3.2 miles - small park with a few picnic tables and grills, a view of Lake Ontario and spectacular sunsets.


Webster Park - 3.7 miles - large park with plenty of resources.
Google Street View
Photos
Comments:
Note: You must be logged in to add comments