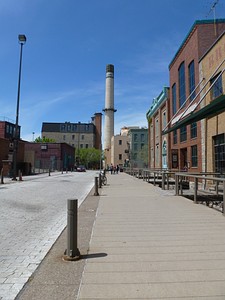 Officially called the High Falls Heritage Area and Brown's Race Historic District, this is the downtown neighborhood centered on the High Falls. The City invested millions in the 1990s to turn it into an entertainment district; unfortunately, this failed. Since then, however, the High Falls District has rebounded as an office district, boasting (as of October 2015) a 96% occupancy rate while the rest of downtown struggles to fill its office space.1 The Kodak Headquarters are currently in the process of being converted to MCC's new downtown campus.
The High Falls District also has a growing residential population.
The High Falls Center & Interpretive Museum is a popular tourist attraction. Frontier Field is also located here.
Establishments
Food and Drink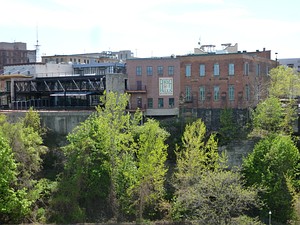 Offices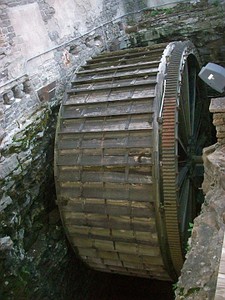 Wheel, 8-2011
Other
Also check out the Genesee Brew House right across the pedestrian bridge, technically in the Upper Falls neighborhood.
Links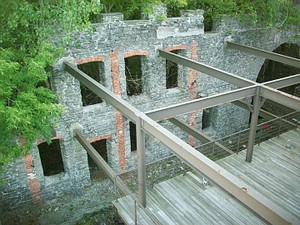 Historic Architecture, 8-2011
Comments:
Note: You must be logged in to add comments
---
2008-07-08 12:32:02 This area is straight Hood thats why it is dead. —UofREmployee
---
2008-07-08 15:30:59 high falls is hood? you have no idea what hood is. —JohnJoseph
---
2008-07-08 17:13:40 No its not the hood, but to say it isn't within a few blocks of "hood-like" areas would be a lie. High Falls just happened to be on the wrong side of the Inner Loop. —TippingPoint
---
2008-07-16 23:50:00 being near "'hood like' areas" is a lot different than being "hood." You people really need a reality check —JohnJoseph
---
2011-09-25 17:22:23 This area is most certainly not "hood." It's actually quite nice and the fact that it's "dead" is really too bad. Has a couple nice shops and amazing views. —EileenF