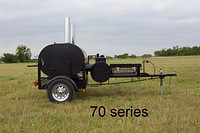 Holy Smokes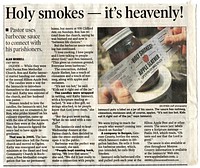 Democrat & Chronicle 4/08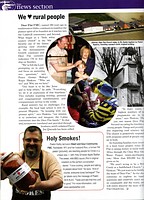 Light & Life Magazine 7/08
Holy Smokes BBQ Sauce & Catering (aka Holy Smokes Catering), founded in 2005, is a local on-site smoker / catering firm. Capabilities up to 300 people / Varied menu including pulled pork, ribs (baby back or spare), chicken and other smoked treats including sliced beef brisket.
Also the maker of Holy Smokes AppleSlather BBQ sauce (featuring NYS GROWN APPLES). Found locally in the Hilton Big M, NiBlack Tadco Spices (Henrietta), Hegedorns (Webster), Higbies (North Chili), Churchville Sur Sav, Callabresella's Deli (Gates), and other locations across the State.
Member of the Spencerport Chamber of Commerce, and the "Pride of NY" Division of Agriculture and Markets Program.
UPDATE: 2008 Second Place winner (Vendor Class) of the ROCCITYRIBFEST, beating several local bbq restaurants. A 2009 Competitor in the Roccityribfest where they placed 25th of 62 in the New England BBQ Society (NEBS) Rib Contest and 11th of 42 in the Kasas City BBQ Society (KCBS)contest for Pulled Pork.
See also
Stats on RocCityRibFest.com
Fully permitted & insured. Health Dept certified as a Level 1 food handler (good in all 50 States)
Comments:
Note: You must be logged in to add comments
---
2009-02-06 16:25:56 My wife and I got a jar of their Apple Slather BBQ sauce for Christmas, and it's really good! It definitely has a unique flavor. —AlexanderGartley