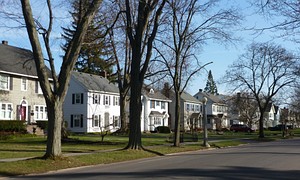 Built primarily in the 1920s, Home Acres of Brighton was one of the original "streetcar suburbs" of Rochester. The Landmark Society featured the neighborhood in a tour during the summer of 2007. The neighborhood is almost entirely residential, featuring a mix of architectural styles including colonial, Tudor, and Craftsman style homes, with sidewalks, distinctive lamp posts, and mature trees along the streets.
The Home Acres neighborhood association organizes several family-oriented events each year, publishes a newsletter and directory, and serves as a point of contact between local government and neighborhood members.
Home Acres is conveniently located. It is within easy walking and biking distance of the shops and amenities of Monroe Avenue, as well as the attractive Rochester neighborhoods of Upper Monroe and Cobbs Hill. Cobbs Hill Park itself is also nearby.
Comments:
Note: You must be logged in to add comments