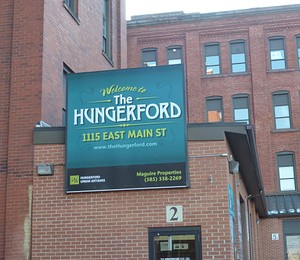 2013
The Hungerford Building is a huge old building overlooking the Goodman Street Yard, at the very end of North Goodman Street in the EMMA neighborhood. In the early-to-mid 1900s, it was a major manufacturing plant for the J. Hungerford Smith Company, who made "True Fruit" flavored syrups, as well as the flavor syrup for A&W Root Beer. The
J. Hungerford Smith brand is still an active line of products from ConAgra Foodservice.
In April 2022 longtime owner Maguire Properties sold the building for $7.7 million to Peter Hungerford, a commercial real estate developer and distant relation of J. Hungerford Smith1.
Today, the Hungerford Building describes itself as a "community of artists, craftspeople and businesses." It is home to numerous artist studios and galleries and is the place to be on First Friday and Second Saturday.
Per a notice to tenants on November 16, 2015, bicycles are not allowed to be chained to any railing or plumbing on the premises and they "will be removed and chain cut." Bicycles may only be secured inside a studio. No bike racks are provided for guest use.
Note: The address of the property is occasionally given as 410 North Goodman. This is the address used in the City of Rochester Property Information website.
Wheelchair Access
In October, 2015, the a wheelchair ramp was added to Door #3 near the loading dock. This offers unassisted access to a few studios in the vicinity of the dock, as well as a freight elevator which is not automatic.
The freight elevator requires average physical strength and the ability to reach the door access straps approximately 7' from the ground. On First Fridays, an elevator operator is usually on duty. The elevator can reach all floors of the building including the basement. However, due to the layout of the building, the first floor studios adjacent to Door #1 are only accessible by stairway. The main building also does not connect to the building adjacent to the Goodman Street extension.
Many of the bathroom facilities are not accessible.
Hungerford Heights
Hungerford Heights is the name given to the residential portion of the building. Amenities include views of downtown and the train tracks, vending and laundry on each floor, cable, and air conditioning. Architectural features include hardwood floors, exposed brick walls, and open-beam ceilings.
Directory (Partial)
"Click the link to see the ShopTheHungerford.com directory page
https://shopthehungerford.com/the-hungerford-building-artist-directory.html/"
See
website for a full directory.
Photos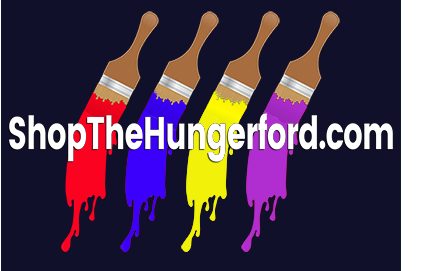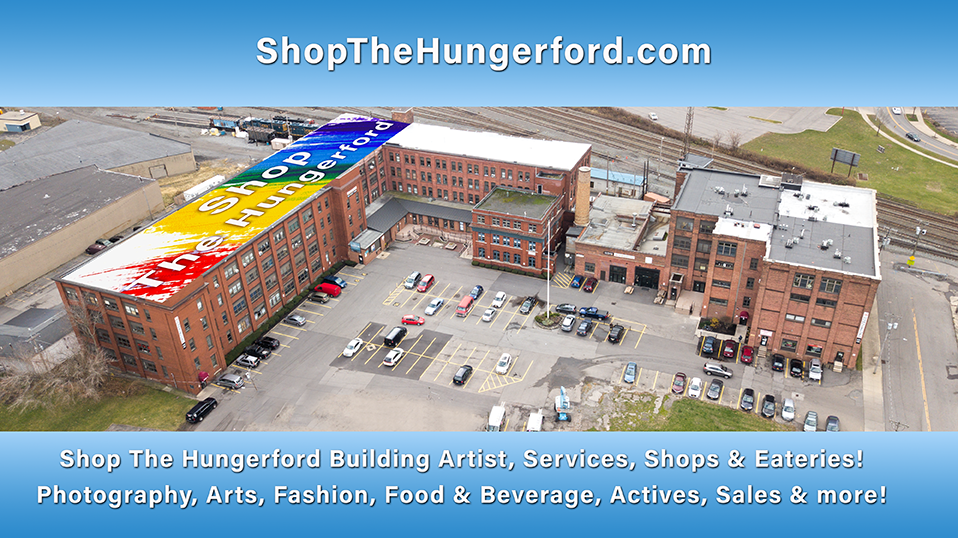 Comments:
Note: You must be logged in to add comments
---
2012-02-04 19:17:52 Be careful going to the First Friday at the Hungerford Gallery . It is a lovely place and great environment but if you park in the wrong area mistakenly you will get towed by a very expensive and shady towing company. The Mojoe pizza place owns an empty building on the lot. You think you are parking in the Hungerford lot but you are not and Mojoes can't wait to pick up the phone and call their buddies at the tow place. In about an hour they managed to tow at least 10 cars. There is a "illegally parked cars will be towed" sign but you think it was put up by the gallery. It was not put up by the gallery. It was put up my Mojos. They could make people less confused if they put up a sign that said "Mojo parking only" but that would stop the gravy train towing scam. And Mojoes has its own parking for their pizza place so it is not even close to this empty building. Hungerford has a small sign warning about the towing but it is only noticeable if you are exiting the building. Patrons entering the building would never see it. They need toput the sign on the entrance doors if they want to encourage people to come back. I never will. Feeling scammed and wondering if the City of Rochester is aware of what is going on in this lot. The tow place did not have a storefront. You have to give your credit card number to some guy in a beat up car who then gives it to someone on a cell phone before you can get your car back. —ShellySmith
---
2015-11-16 19:04:53 Why on earth don't they have bike racks??? —EileenF