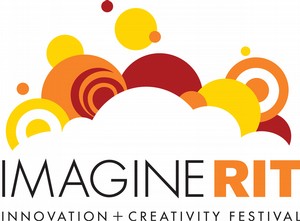 Imagine RIT: Innovation and Creativity Festival is a festival designed to showcase examples of student, staff, and faculty innovation and creativity. Visitors learn about new ideas for products and services, admire fine art, explore faculty and student research and examine engineering design projects. Theatrical and musical performances take place on stages throughout the RIT campus. Hundreds of interactive exhibits stimulate the imagination of people of all ages. Carnival rides and other attractions provide entertainment for kids.
Imagine RIT is sponsored by RIT, and many local, national, and international companies. The festival is free and open to the public, and will be usually be held, rain or shine, the first Saturday in May.
The idea for the festival came from RIT's president, Bill Destler, who wants RIT to show the world what can be accomplished when "the left brain and right brain collide."
The official song of the festival, "Can You Imagine", was written by an RIT professor, and the music video can be viewed here:
http://www.rit.edu/imagine/videos.php?file=ImagineRITMusicVideo
Comments:
Note: You must be logged in to add comments
---
2011-04-10 08:35:49 Went here last year, got some free reuseable bags for the market. It was packed! Walking through the new building new Global Village and Building 70 was impossible without brushing into people. —DamianKumor