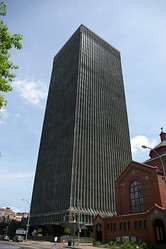 Xerox Tower, 6-2008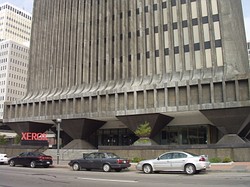 Front entrance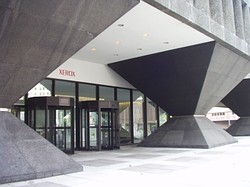 Back side entrance
Innovation Square is the name of a Gallina Development project announced in October 2020 to remake the former Xerox headquarters complex as a student housing and business innovation hub.1
The former Xerox Square complex, located in the Washington Square Neighborhood, was built as Xerox's corporate headquarters in 1968; not long thereafter they moved headquarters to Stamford, CT. The buildings subsequently held a number of Xerox organizations; in 2013 the complex was sold to Buckingham Properties although Xerox continued to occupy several floors under a lease arrangement. In January 2018 Xerox announced that the last employees at the Square would be moved to the Webster campus by midyear.
The skyscraper (commonly called Xerox Tower) is 30 stories tall with a height of 135 meters (443 feet), and is the tallest building in Rochester. Featuring mostly a minimalist style of architecture, the charcoal-colored building fans out near the bottom, taking up an entire city block on Clinton Avenue between Court Street and Broad Street. At the Chestnut Street end of the complex is a large auditorium that has been used as a venue for the Rochester International Jazz Festival, for which Xerox was the title sponsor for many years.
The tower used to have a red "Digital X" for the Xerox logo near the top of the building, but that was taken down in 2005 because the company wanted to stop using the Digital X. They changed the logo to XEROX, spelled out, at the base of the building, but did not not replace the logo at the top. The last exterior Xerox branding was in July 2018 as Buckingham announced plans to sell or lease the building, possibly to include some residential space. After an extended period on the market the building was sold at a considerable discount to Gallina Development in September 2020.
For more info, visit
Skyscaperpage.com and
Emporis.
Commercial Tenants
*
Actel Advisory Group
*
CPL Rochester
* EFPR Group, LLP
* Great Lakes Gaming
*
Serendipity Labs