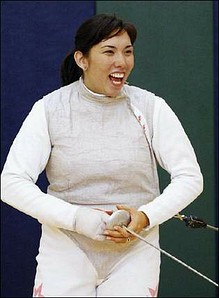 A native of Rush, Iris Zimmerman was the first American fencer to win an F.I.E. World Championship by grabbing the Cadet Women's Foil title in 1995, setting off a wild celebration by the U.S. team and a teary-eyed awards ceremony. Two years later she became the youngest U.S. women's foil champ ever at the age of 16.
She placed 11th individually and fourth in the team foil at the 2000 Sydney Olympics. She was part of the bronze-medal American team the following year at the World Championships along with her sister Felicia Zimmerman and also won the NCAA foil championship that year.
She graduated from School of the Arts and Stanford University.