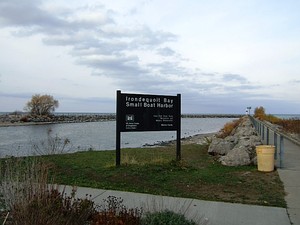 Photo: Webster Side, Nov 2007 - BradMandell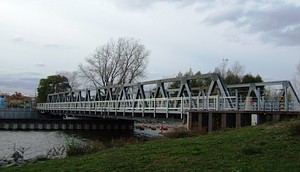 Photo: Webster Side, Nov 2007 - BradMandell
About

The Irondequoit Bay Outlet provides maritime access between Irondequoit Bay and Lake Ontario and is protected by breakers extending out into the lake to protect the navigation channel.

The Irondequoit Bay Outlet Bridge (IBOB) provides a seasonal passage over the Outlet between the western terminus of Culver Road in Irondequoit and the eastern terminus of Lake Road in Webster. The bobtail swing bridge is closed to vehicular traffic during the summer months to allow boat passage through the outlet. Thus, the bridge is considered a seasonal bridge because it is open to vehicular traffic during non-boating season (typically from early November to March) to allow traffic to traverse the outlet.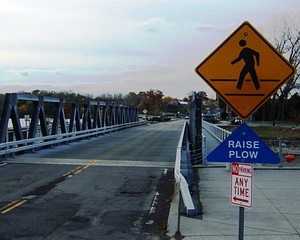 Photo: Webster Side, Nov 2007 - BradMandell Webster, Eastern Side

The eastern side of the outlet has a small public parking area and is convenient to Castaways on the Lake, as well as Mayer's Marina (585 323-1010), a commercial marina, with gas pumps, ship store, parts, and small boat dockage. The Bay Road Deli (on the left of Bay Road just north of Route 104) is convenient to pick up snacks, beverages, and sandwiches for your visit. Visitors may walk out onto the jetty and enjoy the ducks, boat traffic, and wonderful sunsets. Folks also fish from the Outlet Bridge abutment. You will also pass the Town of Webster's Sandbar Park, another great sunset watching spot, a few hundred yards before reaching the outlet.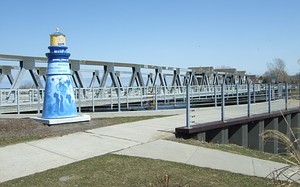 Photo: Irondequoit side, Mar 2009 - BradMandell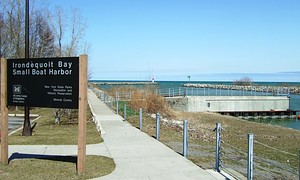 Photo: Irondequoit side, Mar 2009 - BradMandell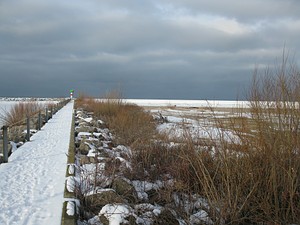 Photo: Webster side jetty, Feb 2010 - BradMandell Irondequoit, Western Side

The western side of the outlet has a small public parking immediately adjacent to the bridge, with a public restroom. More extensive parking is available at the Marina Park on the Irondequoit Bay side (watch out for the goose droppings!). The western jetty extends out further into the lake, curves slightly eastward and features a small lighthouse. Alongside the jetty is a small Monroe County public beach - no lifeguards, etc. The shoreline west of the beach is very broad and active with restaurants and private beaches. Again a great spot to view the boat traffic, watch a sunset, etc.


On the western side you will have access to Marge's Lakeside Inn, Bill Gray's, Don's Original and Vic and Irv's restaurants. Close by to the west is Seabreeze Amusement Park and a number of other bars and restaurants.
Photos

References:

See Talk Page for Comments and suggestions.