JGK Galleries was a fine art gallery. Their exhibits were selected from a national roster of artists, including sculptors, painters, glass artists, and mixed media artists. Notable artists on display included Richard Chandler, John Mauer, Molly Hutchings, Brittany Ryan, Mariko Ishii, Vinita Voogd, Joseph Moscoso, Elaine Twiss, and Peter Malarkey.

Managing director Maria Lauriello-Klein is a Rochester native who has worked with numerous other local art organizations.

JGK officially opened on October 6, 2011 in a nineteenth-century carriage house located at 10 Vick Park A, between Park and East Avenues. They closed this location in May 2013 and became online only.
As of November 2015, their website is dead.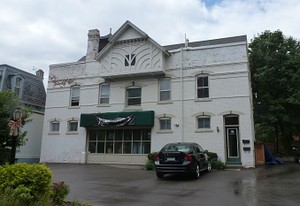 Original physical location
Comments:
Note: You must be logged in to add comments