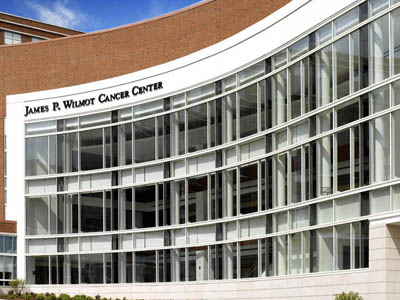 Location
601 Elmwood Avenue, Rochester, NY 14642
Hours
Monday-Friday: 8:00am-5:00pm
Open 24-Hours for patients
Phone
585 275 5830
866 4 WILMOT (494 5668)
Website
http://www.wilmot.urmc.edu/
The James P. Wilmot Cancer Center is the first multidisciplinary academic cancer center in the Rochester community. Affiliated with The University of Rochester Medical Center (abbreviated URMC), the Wilmot Cancer Center consolidates all outpatient cancer care services and research programs into a single, accessible location.
The state-of-the-art facility also includes:

164,000 square feet of clinical and research space housing the latest in technologies and therapies for most types of cancers


Nationally known cancer care specialists who work together using a multidisciplinary approach (medical oncology, radiation/oncology, surgery, etc.)


Dedicated oncology nurses, technicians, therapists and other support staff


Quick access to the latest in clinical trials, many of which originated at the Wilmot Cancer Center


Onsite radiology and pathology for fast and accurate diagnostics


A Greater level of patient privacy and comfort during treatment


Specialized support services including social workers, nutritionists, financial counselors, support groups, and educational recourses
The Wilmot Cancer Center is also home to the Comprehensive Breast Care Center, dedicated to a multidisciplinary approach to diagnosing and treating breast cancers. This model, which is unique in Upstate New York, will allow a person who discovers a lump to have an immediate appointment, with imaging and biopsy in one visit. All members of the breast care team -surgeons, radiation and medical oncologists, diagnostic radiologists, pathologists, and nurses- are on-site and available to discuss treatment options if a malignancy is found.
Cancers Treated at the Wilmot Cancer Center

Bone Cancer


Brain and Spinal Tumors


Breast Cancer


Esophageal Cancer


Gastrointestinal and Colorectal Cancer


Genito-Urinary and Prostate Cancer


Head and Neck Cancer


Leukemia and Hematologic Malignancies


Lung Cancer


Lymphoma
James P. Wilmot was a prominent Rochester businessman and philanthropist who originally created the foundation of the center in 1980 to train physicians in cancer research and treatment.
There is a quarterly publication, Dialogue, which is sent by mail, free, to potential and past contributors. It has a donation envelope included, and much information about the Center.
The expansion of the Wilmot Cancer Center is one of the primary goals of the University of Rochester's Meliora Challenge fundraising campaign.
References
Comments:
Note: You must be logged in to add comments